Huebler Pool Cue Identification
---
12/14/2018 10:42:27 PM
Huebler Pool Cue Identification
I was wondering if anyone might know which model Huebler Cue this is that I have?
I bought it about 25 years ago. It's wrapped in Nylon.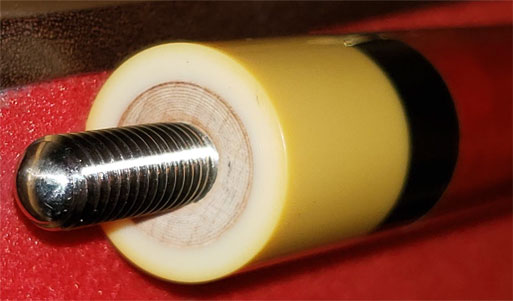 VANB
Huebler Pool Cue Identification
Replies & Comments
---
billiardsforum on 12/15/2018 7:37:45 AM

So you would have bought it new in or around 1993, correct?

This cue kind of looks like the Huebler EH-2 from the Huebler Euro-Hitters series (circa 1991), except it has a white synthetic joint collar whereas the one in the brochure has a black or stainless steel joint collar.

Also similar to the AS-E2 cue from the Huebler Anniversary Series, but the wrap is different.

Of course you could customize wraps and joint collars e.g. add a stainless steel joint for about $16, so it can sometimes be hard to tell.
Huebler Pool Cue Identification
Title: Huebler Pool Cue Identification
Author: VANB
Published: 12/14/2018 10:42:27 PM
Last Updated: 12/15/2018 4:56:22 AM
Last Updated By: billiardsforum (Billiards Forum)