Age and ID Model of Meucci Cue with Propeller on Butt
---
4/6/2021 1:51:33 PM
Age and ID Model of Meucci Cue with Propeller on Butt
I am trying to find the age and value of this Meucci Originals cue with a propeller on the butt.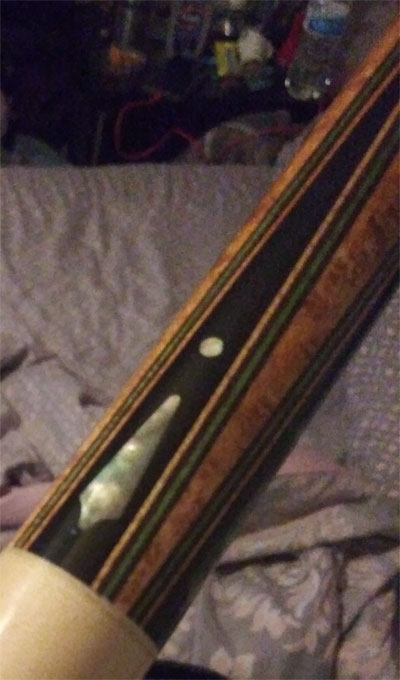 user1617742292
Age and ID Model of Meucci Cue with Propeller on Butt
Replies & Comments
---
billiardsforum on 4/8/2021 3:08:43 AM

It looks like a Meucci OL-2 cue (aka "Meucci airplane cue") from the Meucci Oldies series.

This would most likely be from sometime in the late 1980s.

Shane B on 4/9/2021 11:18:01 PM

According to the Blue Book of Pool Cues your cue is a Meucci model 95-19. That's a nice looking cue.

billiardsforum on 4/12/2021 6:35:16 PM

@Shane B - That's incorrect.

The Meucci 95 Series cues had the newer "Meucci" logo (not the older "Meucci Originals" logo).

Yes, the same "propeller" design was continued in the Meucci 95-19 cue, but it didn't have the "Meucci Originals" logo.
Age and ID Model of Meucci Cue with Propeller on Butt
Title: Age and ID Model of Meucci Cue with Propeller on Butt
Author: user1617742292
Published: 4/6/2021 1:51:33 PM
Last Updated: 4/7/2021 7:49:18 AM
Last Updated By: billiardsforum (Billiards Forum)