3 Older Pool Cue Identifications
---
8/17/2018 7:35:21 AM
3 Older Pool Cue Identifications
Need help identifying these 3 older pool cues. No manufacturer name or identifying characteristics anywhere on the cues except for a small number on the handle, two have "17", one "18", one "19".
Never been used; I inherited these cues from my grandfather who didn't play pool was given them as gifts from a client.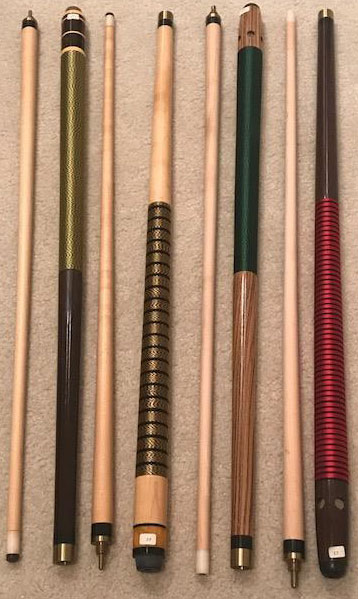 user1534516520
3 Older Pool Cue Identifications
Replies & Comments
---
Chopdoc on 8/17/2018 1:40:37 PM

I believe these are Style Craft (or Stylecraft) cues made and/or sold by by Gene Small in Fontana Wisconsin.

They are not particularly collectible nor worth a lot.
3 Older Pool Cue Identifications
Title: 3 Older Pool Cue Identifications
Author: user1534516520
Published: 8/17/2018 7:35:21 AM
Last Updated: 8/20/2018 2:18:12 AM
Last Updated By: billiardsforum (Billiards Forum)