1980s Dufferin 2-Piece Cue ID
---
1/30/2019 6:57:32 AM
1980s Dufferin 2-Piece Cue ID
I have this Dufferin 2 piece cue I bought in the 1980's. The finish is still good and it's straight, and I like playing with it.
Is it a Merry Widow or Black Widow?
Is it worth keeping?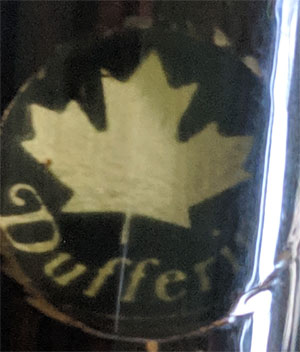 Duke
1980s Dufferin 2-Piece Cue ID
Replies & Comments
---
jbabcock12 on 2/5/2019 7:49:13 PM

It is Definitely worth keeping.

It is an Ebony silver leaf Banner model Dufferin cue.

I'd love to own it and would definitely be interested in buying it if you wanted to sell it.

Let me know. I would love to add this to my collection. Email me anytime at:

jaybabs12@gmail.com
jaybabs424@gmail.com

If it is in good shape I would give you a fair price for the cue, plus pay the shipping costs to get it to me.

Thanks and look forward to hearing from you.

Duke on 2/6/2019 5:04:31 AM

Thank you. Right now I am using it daily.
1980s Dufferin 2-Piece Cue ID
Title: 1980s Dufferin 2-Piece Cue ID
Author: Duke
Published: 1/30/2019 6:57:32 AM
Last Updated: 2/6/2019 2:39:46 AM
Last Updated By: billiardsforum (Billiards Forum)