"Do It For The Game" by Robert Campbell
"Do It For The Game" is a pool & billiard book of fiction about a man who rediscovers the game of pool he once knew.
You can purchase the "Do it for the Game" book at a very low price on amazon.com.
Title: Do It For The Game
Author: Robert Campbell

Bob Campbell is a pool room owner and player. For several years he published All About Pool... Everywhere Magazine, a monthly newspaper about pool and billiards. Originally from Woburn, Massachusetts, he now resides with his family a few miles north in Methuen, MA.

Date Published: 2001-05-02
Genre: Fiction
Subject: Pool & Billiards
Publisher: ? Merrimack Publishing, Inc.
ISBN-10: ? 0966079434
ISBN-13: ? 978-0966079432
Website: doitforthegame.com
---
"Do It For The Game" by Robert Campbell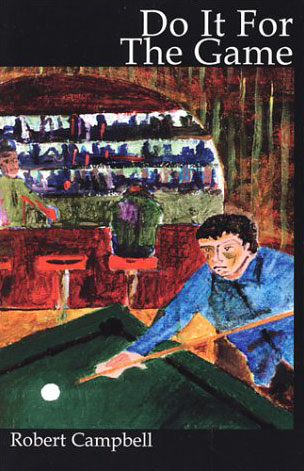 Brian Dwyer was living the good life with a beautiful family, a big house in the suburbs, and a nice corporate job.
Then, one by one, he lost everything. When he returns to his hometown to bury his father, he visits the pool hall and discovers some long forgotten lessons.
Meet the regulars at The Cue, an old time neighborhood pool hall. Join Weasel, Snake, Zig Zag, Al, and the other colorful characters as they try to out hustle each other. Tag along to the tournaments and sweat the money games.
Come into The Cue, have a cold beer, watch some football, and play a game of pool.
Industry Praise for the "Do it for the Game" Book, by Robert Campbell
The original (now defunct) website for the book listed praise received from industry leaders for "Do it for the Game".
Robert Byrne, author and member of BCA Hall of Fame:

A short, fast-moving novel about pool and pool players by an author who obviously knows what he is talking about.

Grady Mathews, professional player, teacher, and author:

If you love pool this is a must read by one of New England's best pool minds.

Joe Tucker, professional player and author:

Do it for the Game is a well written book that allows you to walk a mile in another man's shoes. In just one sitting I was able to enjoy and learn about some of the lessons life can throw your way. If you've ever wondered how pocket billiards gets in your blood and stays there for life (whether your a player or not) read "Do it for the Game" and have your questions answered.

Phil Capelle, Billiard Press Author/Publisher:

I have just finished the book "Do it for the Game" by Robert Campbell and I gotta tell ya, it's the nuts! Bob Campbell's fascinating tale is about a man in his late 40's who discovers his true nature and, in the process, rekindles his love for pool. The book is chock full of colorful characters, pool action, and humorous anecdotes. Bob's love for pool and his knowledge of the game add tremendously to the story. I enjoyed it thoroughly from cover to cover.

Robin Richardson, Chalk and Cue Magazine:

A close look at the game of pool and the animated characters who play it; 'Do it for the Game' is a straightforward and enjoyable piece of fiction. It brings to life the game of pool and everything that comes with it; the hustles, the nearly perfect games, the mornings after, and the nights of. The author is obviously a passionate player and a well informed one, however it is also apparent that the editing process was not carefully taken into consideration so when reading it one must be able to overlook the grammatical errors and typos. Do it for the Game is about a man who loses everything and must start rebuilding his life around the rediscovery of The Cue, which is the local pool hall. Once he gets back into the game the book begins to fill with colorful descriptions and stories of the various people he encounters and events he witnesses. It is a great mix of both fictional characters and real ones and it features some of the most creative bets I've ever heard of.

Suzanne M. Irlam - Women's Billiards Online Magazine:

I read Robert Campbell's "Do It For The Game" in a single sitting! I wasn't sure what to expect but once I got started I could not put it down. I read a lot of "story" books and enjoy getting to know the characters in them but in this book, how ever wacky they seemed, I felt like I already knew them! It's a wild and fast moving story that made me laugh out loud at times. No matter how much I started to drift away remembering all the good old days spent at the pool hall in my old hometown, I would think "So what happens to these people?" and dive back into the story with eagerness. I would recommend this book to anyone whether they play pool or not. It's an easy read and an excellent story.

Mike Howerton, A-Z Billiards:

The book is all about his adventures (Brian Dwyer) in and around The Cue, his advancement back up the skill ladder, as well as his interactions with the regulars. The characters in the story might not all be the type you would take home to meet mom, but they are all genuine. I received the book on a Saturday and thought I would just get acquainted with the characters over the weekend and save the full read for an upcoming trip to Vegas. It didn't work out that way. I just couldn't put the book down and ended up reading it from cover to cover in one sitting. Like a trip to my favorite pool hall to see friends, I just couldn't wait to see what happened to the characters next. The book's author Robert Campbell has been around the game and the cue sport industry for quite some time, having published the All About Pool... Everywhere Magazine for years before finally giving it up. He knows pool and you can tell from the way he writes about it that he loves the game and the characters around it. The book is meant to be the beginning of a series of books about these same characters and I for one, hope that Bob writes more and soon. Now that I know the characters, I want to go back to visit with them soon and often.

Bob Henning, BEBOB Publishing

This is an exciting, entertaining, and easy-to-read novel by the former publisher of the All About Pool magazine. You'll love it. This book has the drama, action, love, and intrigue that will keep you reading right to the back cover. You'll find it hard to put down.

J. Holland, Pool Player and Paying Customer of "Do it for the Game":

I am a pool player who grew up in a poolroom. This book was right on. It had a great story line with a great cast of characters. This story kept me interested from start to finish. It brought me back in time and made me feel good. I highly recommend it.

Inside Pool Magazine reviewed "Do It For The Game" in the July/August 2002 issue. View the article here:
Inside Pool Magazine Editors Review of "Do It For The Game" from the July/August 2002 Issue
You can purchase the "Do it for the Game" book at a very low price on amazon.com.
"Do It For The Game" by Robert Campbell
Title: "Do It For The Game" by Robert Campbell
Author: billiardsforum (Billiards Forum)
Published: 3/9/2022 4:19:59 AM
Last Updated: 3/9/2022 1:46:31 PM
Last Updated By: billiardsforum
"Do It For The Game" by Robert Campbell
"Do It For The Game" by Robert Campbell Comments
There are not yet any comments. Please post one below. All comments are moderated.
Reply and share your comments below: