Layout of my "Billiard Room" Basement
---
1/16/2013 11:52:56 AM
Layout of my "Billiard Room" Basement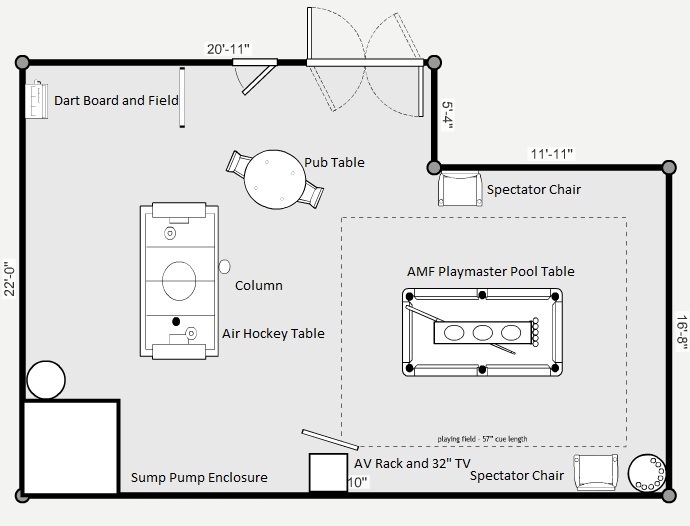 Feel free to ask any questions.
I also have a thread on the progress of the build in the home billiard rooms thread.
kkroger
Layout of my "Billiard Room" Basement
Replies & Comments
---
MyPoolHallCom on 1/16/2013 6:15:17 PM

You might be able to get a foosball table next to the air hockey table.

kkroger on 1/17/2013 5:49:50 PM

Not really big on the "Foosball" but there is plenty of room for one. I will probably eventually get one of the Cocktail table style Multi-game Arcades for that spot.

In the basement I still have to build a Galley, and a Restroom, and I may double my Music Room as a home theater with a screen and projector and some seating. As you can see some of the guitars in the pics I posted elsewhere.

DsmithBFL on 4/5/2013 1:40:33 AM

I would say that laying out the plan of a personalized billiard room in the basement would largely depend on the amount of tight spaces and positioning of other game room accessories.

Since you are already planning on making a home theater setup as well, I would suggest placing other furniture in your basement relative to your home theater seating since it would take up the most space right after the pool table.
Layout of my "Billiard Room" Basement
Title: Layout of my "Billiard Room" Basement
Author: kkroger (Kerry Kroger)
Published: 1/16/2013 11:52:56 AM