EastPoint Brighton Pool Table Reviews?
---
10/19/2019 8:33:02 PM
EastPoint Brighton Pool Table Reviews?
Are EastPoint Brighton pool tables any good? I am looking at one, and I wanted to get your opinion on it's quality.
Are they any good? Can anyone provide a review?
Should I buy one?
EastPoint 87" Brighton™ Billiard Table - Burgundy

The EastPoint Sports® 7ft 5in (87in) Brighton™ Billiard Table is the ultimate addition to any family game room, rec room, man cave, basement or garage. It's sure to keep your family or guests entertained for hours on end. Featuring traditional style ball and claw legs and parlor style drop pockets, the scratch resistant Luster Long™ finish is strong enough and durable enough for the modern family. The table comes complete with all accessories and ready to play out of the box. There is nothing better than hot cocoa and some fun family time around the game table!

Item: 1-1-32744
Traditional claw leg billiard table with parlor-style drop pockets
K-66 rubber bumpers provide professional style and yield consistent bounce
Built-in leg levelers ensure a level playfield for a consistent roll
Includes everything you need to play: 2 wooden billiard cue sticks, 1 set of 16 billiard balls, 2 billiard chalk cubes, 1 billiard triangle rack and 1 table brush
Assembled dimensions: 87'L x 50'W x 31'H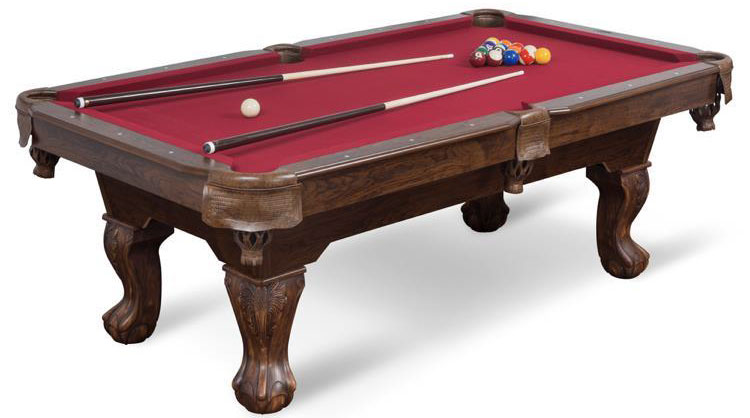 user1571517181
EastPoint Brighton Pool Table Reviews?
Replies & Comments
---
billiardsforum on 1/1/2020 12:03:55 PM

It is a low-quality, low-priced, entry-level residential pool table.

If that's what you are looking for, then sure, buy it.

Personally, for that same amount of money, I would be looking for a used commercial-grade pool table. There are tons of them on the classified sites, and it's a buyer's market.
EastPoint Brighton Pool Table Reviews?
Title: EastPoint Brighton Pool Table Reviews?
Author: user1571517181
Published: 10/19/2019 8:33:02 PM
Last Updated: 1/1/2020 11:59:43 AM
Last Updated By: billiardsforum (Billiards Forum)