Balabushka GB24 Cue Reviews
---
9/4/2019 7:11:27 PM
Balabushka GB24 Cue Reviews
Can anyone provide a review of the Balabushka GB24 pool cue?
I am looking to make a step up in my choice of cue, and I am looking at the Balabushka GB24 cue.
Any and all information and feedback on that cue is greatly appreciated.
I'm also interested in any other cue recommendations at a similar price point.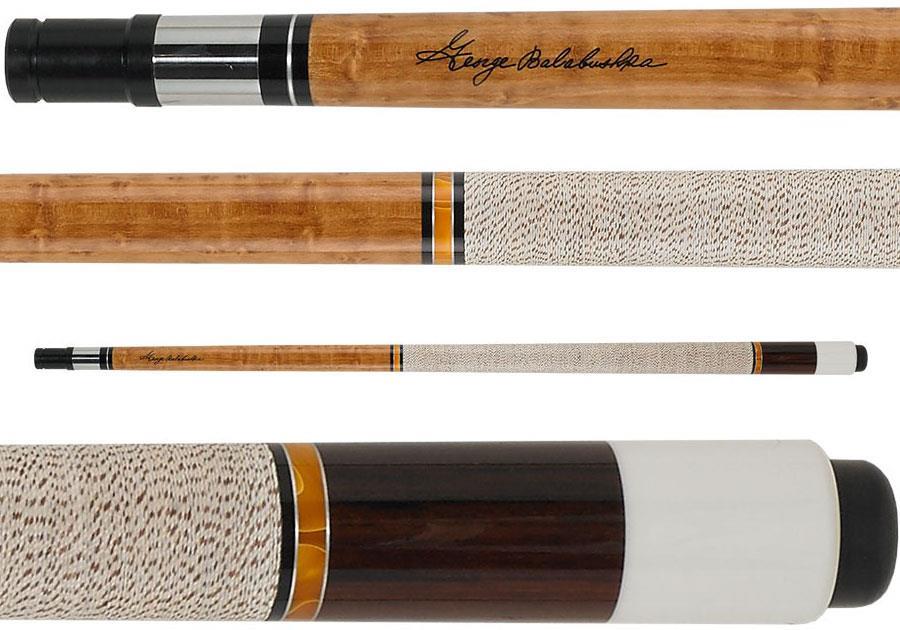 fasteddie23
Balabushka GB24 Cue Reviews
Replies & Comments
---
billiardsforum on 9/19/2019 4:35:01 AM

It is a nice looking cue. Looks like it has a MSRP of $545 and a retail price of about $480.

I've not personally used any of the Balabushka cues from the current line, so I can't give guidance there, but my only advice would be to get into a physical shop and ask to try one out.

Also, at that price point, I would certainly be looking around to see what other cues I could get in that range which have a history of quality and a well-known solid reputation - I.E. McDermott, etc.

For example, right now, on billiardwarehouse.com, you can get a McDermott H550C (the McDermott November 2018 Cue of the Month) for $495. It had a MSRP of $800 when it came out. It is McDermott's first "Cue of the Month" to feature their new variable balance point weight system.

It features:

CUSTOM Zebrawood forearm/sleeve
CUSTOM Curly maple no-wrap handle with light grey stain
CUSTOM Zebrawood, silver and index rings
VBP weight system

And a key point for me - McDermott has a lifetime warranty which covers manufacturing defects, including warpage

---

A few notes on the Current Balabushka cue line which you may or may not already know:

Adam Cue Co. out of Japan used to make a line of these, as did Helmstetter I think. I am not 100% sure who manufactures the current line, but I'm fairly certain they're made overseas (not that it matters all that much).

@Chopdoc - If you see this - Wonder if you could confirm whether these are still being made at the Adam Cue co factory in Japan?

The company is currently run out of, and by the owners of, the G-Cue Billiard Store in Tempe, AZ Robert and Peggy Mallen. Peggy is a high-level business executive, once a Vice President of Operations for Sky Mall.

Here's the blurb from the company:

The Balabushka Cue Company, located in Tempe, Arizona, is a billiard design and manufacturing company producing billiard products specifically under the trademark names of George Balabushka, Richard Helmstetter and Adam. Products include billiard cues, specialty performance chalk and billiard-related products.

On the Balabushka Cues site, it says:

David Forman, founder of Adam Custom Cues, licensed the name Balabushka from George's family. The trademarked name is now owned by Peggy Mallen who manufactures a line of cues under the Balabushka name as a memorial to one of the greatest figures in modern billiards.
Balabushka GB24 Cue Reviews
Title: Balabushka GB24 Cue Reviews
Author: fasteddie23 (Corey Flaum)
Published: 9/4/2019 7:11:27 PM
Last Updated: 9/19/2019 4:05:28 AM
Last Updated By: billiardsforum (Billiards Forum)