General Billiard Links
General Billiard Links
General Billiard links that do not fit in any other area!
General Billiard Links
General Billiard links that do not fit in any other area!
Inside English Magazine
Inside English is a popular billiard publication with circulation in Ohio, Pennsylvania, Michigan, Illinois, and Indiana. If you have the chance, be sure to pick up a copy!
http://www.insideenglish.net
Added on 6/27/2006
Free Pool Tournament Brackets
Free pool tournament brackets sheets that you can print out and use for all billiard-related games from 3 to 32 players.
http://www.poolbrackets.net
Added on 7/17/2006
Zim's Rack
Billiard sales, coaching, league organization, and cue sport resources. Their primary goal is to promote the growth of our sport of the cueing arts, Billiards!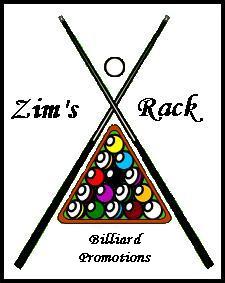 http://www.zimsrack.com
Added on 7/26/2006
The Break Magazine
The Pool Players Best Source of Information - serving the Western United States.
http://www.onthebreaknews.com
Added on 8/8/2006
Billiards FAQ
Your definite guide to billiard cue-sports, billiard equipment, history, rules, famous players and much more.
http://www.billiardsfaq.com
Added on 2/22/2007
Road Dawgz Pool Team
North east Ohio APA pool team playing out of The South Bridge Billiards sports bar and pool hall.
http://www.avatar-slyfoxba.com/mycustompage0049.htm
Added on 12/17/2007
Billiard Junkies
Billiard Junkies is the players online home for English Billiards. Members include many of the worlds top players. Keep up to date with all the latest news in the world of English Billiards.
http://www.billiard-junkies.com
Added on 6/9/2008 3:01:03 AM
ScratchBall billiards
ScratchBall; a pocket billiards game. The object of the game is to scratch the cue ball. Get the tournament rules free at our site. Cool game, easy to learn.
http://www.scratchballbilliards.com
Added on 7/9/2008 1:39:05 PM
Billiard Search
Cue Sports search engine.
http://BilliardSearch.net
Added on 6/18/2009 5:55:39 AM
General Billiard Links
General Billiard Links
Title: General Billiard Links
Author: billiardsforum (Billiards Forum)
Published: 6/27/2006