"The Perfect Stroke" Billiard Training and Practice Aid
---
10/16/2009 8:32:44 AM
"The Perfect Stroke" Billiard Training and Practice Aid
I am working on a new billiard practice aid called the Perfect Stroke.
I was wanting feedback and suggestions for where to get the best bang for the advertising buck for the new training aid.
It is made by a company called Perfect Pool Practice.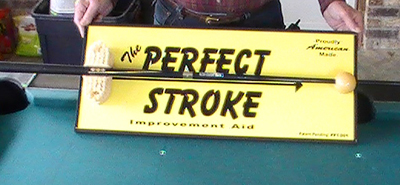 Some information and a demo:
The PERFECT STROKE is a pool training device that will help improve your stroke, thus improving your game. With this device having a rear guide for the cue stick you actually get feedback if you wobble during your stroke. It doesn't matter if you play 8-ball, 9-ball, snooker, or even bumper pool. If you improve your stick control, your game will improve.. Like Dr Cue says, "Practice doesn't make perfect, perfect practice makes perfect."
perfectpoolpractice.com
MS poolshooter
"The Perfect Stroke" Billiard Training and Practice Aid
Replies & Comments
---
"The Perfect Stroke" Billiard Training and Practice Aid
Title: "The Perfect Stroke" Billiard Training and Practice Aid
Author: MS poolshooter (Brian Heath)
Published: 10/16/2009 8:32:44 AM