OTLVISE - Billiard Term Definition
Welcome to the billiard, pool, and snooker glossary of terms. This is the definition of OTLVISE as it relates to cue sports. You can also view the entire billiard dictionary
Definition of OTLVISE
OTLVISE is a billiards term that is a part of Billiard Accessory Terminology.
The OTLVISE is an invention by John Palmer of On the Level Billiards of Torrington, CT that is used for aide in the transporting of pool table slate without having to carry it. The OLTVISE is a form of pool table slate "dolly" which carries two US patents (8573608, 8312598) and one US design patent (D719000).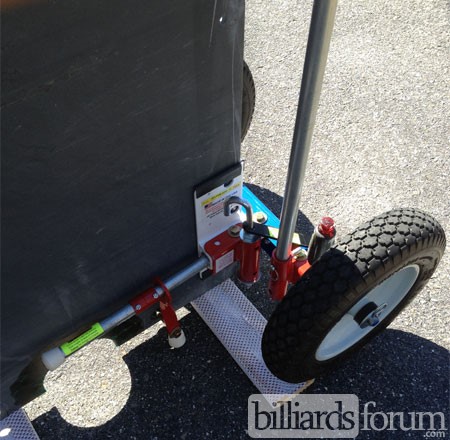 OTLVISE - Usage
I am sick of moving pool table slate by hand. I'm ordering an OLTVISE as soon as I get home.
OTLVISE - Origin and History
The term OTLVISE originated as the name of a proprietary pool table slate moving device invented, patented, and marketed by On the Level Billiards, LLC.
Billiards - OTLVISE
Title: OTLVISE
Author: OTLB (John Palmer)
Published: 1/26/2017 2:40:50 PM
Last Updated: 1/26/2017 3:04:37 PM
Last Updated By: billiardsforum (Billiards Forum)
OTLVISE Comments
OTLB from Torrington, CT on 9/20/2019 12:47:32 AM

This is a picture of the OLTVISE moving a 9-foot Diamond pool table slate.

Only OTLVISE moves them all.
Submit New Billiard Term or Suggest a Correction
You can suggest a new billiard term and it's definition here. If you are suggesting a correction for an existing term, enter the entire definition as with your corrections incorporated.