Crotch - Billiard Term Definition
Welcome to the billiard, pool, and snooker glossary of terms. This is the definition of Crotch as it relates to cue sports. You can also view the entire billiard dictionary
Definition of Crotch
Crotch is a billiards slang term that is a part of Pool Table Terminology.
In carom billiards, the crotch is the corner which is defined by the rails on a carom billiard table.
The actual boundaries of each of the four crotch areas are defined and measured by drawing a line from the first diamond on the end rail through to the second diamond on the long rail.
The crotch is an area in which only three counts can be performed whilst both object balls are inside the boundaries of the crotch before the shooting player must drive one ball out of the crotch.
Crotch restrictions were instituted in 1862 so that long scoring runs, via crotching, would not occur. At this time, the crotch was defined as the triangular region found by connecting a line between the points measuring 4.5 inches down each rail forming the corner. Today, the crotch areas are defined by drawing a line from the first diamond on the end rail to the second diamond on the long rail.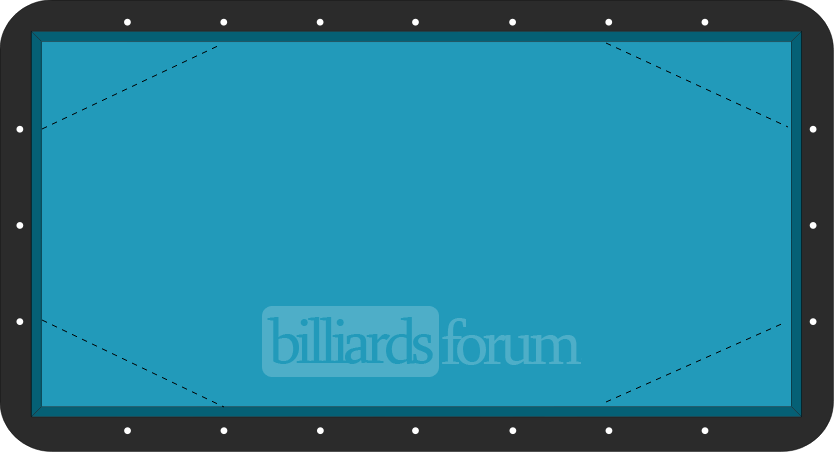 According to some dictionary definitions, in carom games, balls are said to be lying within a crotch whenever the centers of both object balls lie within a 41/2-inch square at a corner of the carom table, however, those definitions are from hundreds of years ago and are not correct at present day.
See: crotching for more on the meaning of "Crotch".
Crotch - Usage
You've made three counts, so now you must shoot away from the crotch.
Billiards - Crotch
Title: Crotch
Author: billiardsforum (Billiards Forum)
Published: 12/30/2007 4:44:29 PM
Last Updated: 9/23/2016 8:57:17 PM
Last Updated By: billiardsforum
Crotch Comments
There are not yet any comments. Please post one below. All comments are moderated.
Submit New Billiard Term or Suggest a Correction
You can suggest a new billiard term and it's definition here. If you are suggesting a correction for an existing term, enter the entire definition as with your corrections incorporated.