Moving a Pool Table Room Too Small
A description of the Moving a Pool Table Room Too Small photo is found below the image.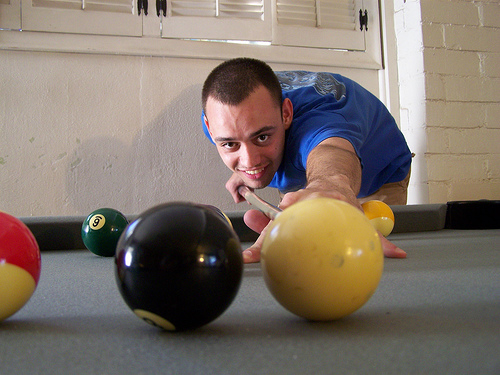 Moving a Pool Table Room Too Small
I worked it out with Mae so that, instead of her paying me to stop in on her house once a month while she tries to sell it, I got the pool table. That was at the beginning of summer, and a lot has happened since then. The rest of the household was a little iffy on the idea from the start, so when the time came to finally move it I thought some disaster would occur. Instead, I actually over planned the move because, largely thanks to Mark's expertise in the subject, moving it only took a few people a few hours to finish the job. It does take up a bit of the living room, but it's not as bad as I feared. The side that Mark's trying to shoot from is the one problem we have. Shooting near the side bumper is pretty impossible thanks to the wall, so I'll have to pick up a short stick or two.
There isn't much more that I can say in addition to the author's comments below. Its a pretty unique living room they have there, I must say. Bigger shot in the next image.
Moving a Pool Table Room Too Small
The billiard room photo titled "Moving a Pool Table Room Too Small" was taken by Captain Manta on 2008-09-29 16:22:52.000 and uploaded to flickr on 2008-10-03 16:22:52.000. It was retrieved from a public flickr feed on 2008-10-04 05:58:28.000. The accompanying article was written and published by the Billiards Forum. The publish date of the text content is found below.
This page belongs to the Home Billiard Room Pictures category. Pictures from users and from around the internet showcasing different home billiard rooms.
Title: Moving a Pool Table Room Too Small
Author: billiardsforum (Billiards Forum)
Published: 10/4/2008 6:01:32 AM
Last Updated: 10/4/2008 5:59:22 AM
Last Updated By: billiardsforum
Source: Flickr user contribution
Moving a Pool Table Room Too Small Comments
There are not yet any comments. Please post one below. All comments are moderated.
Reply and share your comments below: