Centralia Olympic Club Billiard Room
A description of the Centralia Olympic Club Billiard Room photo is found below the image.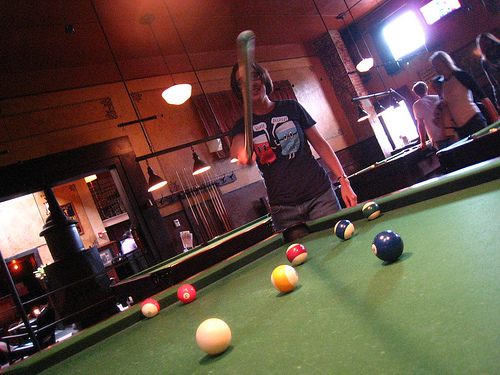 Centralia Olympic Club Billiard Room
In the early 1900s Centralia with its ten or more saloons were teeming with loggers, miners and railroad workers. The Olympic Club's opulent furnishings of mahogany paneling, ceramic-tiled floor, tiffany-style lights and Belgian crystal glassware lured many folks in the door, but it was the club's other attractions that kept them coming back. Early advertisements refer to the Olympic Club as a "gentlemens resort" and this was no exaggeration. Under one roof, men could get a good shave and haircut, eat a well-cooked meal of soup and steak, enjoy fine Cuban cigars and a wide selection of liquors, and partake in spirited games of pool and poker (not to mention other distractions provided by the women working in the adjacent, upper-story Oxford Hotel). Adding to its legend, the Olympic Club was one of the only Centralia drinking establishments to survive prohibition. Stories abound of bootlegging in the area, and the Oly Club seems to be at the center of many of them. Local lore says that a tunnel from the club's basement to the neighboring railroad tracks served as the club's conduit for moving illegal booze into and out of the saloon and that upstairs, several hiding places were created for storing the bathtub booze. Although the city's Chief of Police was a frequent patron of the establishment and its card games at the time, the club did not completely escape the watchful eye of the revenuers. On more than one occasion, city, state or federal officials busted the place for bootlegging. A relic left over from these extralegal activities was found in the cellar: a wooden pickle barrel modified with a secret compartment at its base for stashing the hooch (a similar discovery of a motorcycle and side car resembling those formally used by Centralia police officers has yet to be explained). Today, the Olympic Club again legally stocks premium liquors and a variety of beer and wines, featuring McMenamins handcrafted creations. In addition, a diverse menu ranging from pasta to beef dishes to burgers is available through the café. Incredibly too, the clubs turn-of-the-century setting remains virtually unchanged, with most all of its original furnishings in place and in working order - including several pool tables. Truly, the Olympic Clubs only notable "modernization" of the last eight decades is that now women are welcome.
This is a shot of the Centralia Olympic Club Billiard Room. There is a butt load of history behind this billiard room. Most notably, that it isn't really a billiard hall at all. It is primarily a bar with a bunch of billiard tables. I love playing pool in a place with tons of history like that. There appears to be plenty of space between the tables, and plenty of the original construction shines through giving this billiard hall loads of character.
Centralia Olympic Club Billiard Room
The billiard room photo titled "Centralia Olympic Club Billiard Room" was taken by jkerssen on 2008-07-05 17:28:15.000 and uploaded to flickr on 2008-07-06 17:28:15.000. It was retrieved from a public flickr feed on 2008-07-07 17:02:03.000. The accompanying article was written and published by the Billiards Forum. The publish date of the text content is found below.
This page belongs to the Home Billiard Room Pictures category. Pictures from users and from around the internet showcasing different home billiard rooms.
Title: Centralia Olympic Club Billiard Room
Author: billiardsforum (Billiards Forum)
Published: 9/30/2008 7:24:50 AM
Last Updated: 9/30/2008 6:05:45 AM
Last Updated By: billiardsforum
Source: Flickr user contribution
Centralia Olympic Club Billiard Room Comments
There are not yet any comments. Please post one below. All comments are moderated.
Reply and share your comments below: