Rocky Lane Record Makes Hall of Fame
---
Rocky Lane Record Makes Hall of Fame
Rocky Lane Record Makes Hall of Fame
Rocky Lane has won yet another award as he broke another world cue sport record.
Rocky's Record, Makes the Hall of Fame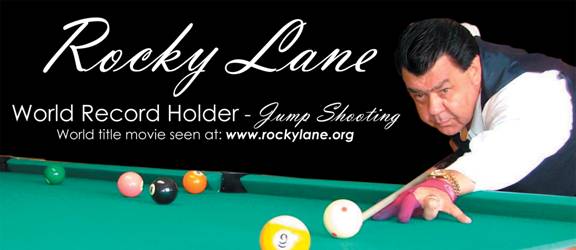 As most of us saw on National Television last October 2005, Rocky Lane, set a new World Record in Billiards, by jump shooting and clearing all 15 Balls off the Pool table within 14.16 seconds. This world record remains undefeated, to date, and our very own Rocky, is still considered the fastest undefeated Jump Shooter in Billiards, throughout the world.
At the recent November 2006 World Pool Championships, staged at the PICC, Philippines, many of our known stars in Billiards, Efren Bata Reyes, Djiango Bustemante and others, all tried, in the practice room, to defeat Rocky's world record. But they all failed to do it in record time, and admitted defeat.
Thanks, to the new Internet Hall of Fame for Billiards, all Cue Sport records can now be recorded at www.cue-tv.com. This has captured records dating back as far as the legends of the game, like the late Minosoto Fats and Fast Eddie, in the 1950's. The actual movies of these World Records, in action, can now be downloaded for free viewing anytime at cue-tv.com, under "Records and Milestones". Therefore, we are proud to report, that Rocky's World Record movie is now right up there beside Ronnie O'sullivan's 147 snooker break done in 8 minutes, the 'Greatest Shot Ever Done' by the one they call 'the magician' Efren Bata Reyes, and many other stars in the game.
We managed to locate Rocky for comment, whilst abroad on the Asian Billiard tour, who said, "Yes, I heard they tried to defeat my record and am humbled that those star players would even consider my record to be something. For me, I do this for our great nation and can only keep on trying my best to do better. Many thanks also goes to Cue-tv.com for such a brilliant and long overdue idea, in capturing the history of the game, for our younger players to review" says Rocky. He says, "Having now been signed by a corporate sponsor and registered with upatour.com, I hope to play abroad on pro tour a lot more now. I figure if Kiwi's like Michael Campbell can get out there and do it, then there has to be room for other kiwi's, to try and do the same."
Yes, three cheers to our Kiwi-Kuya Rocky for his World Record, achieving Hall of fame status.
Players mentioned in this news article include:
Title: Rocky Lane Record Makes Hall of Fame
Author: billiardsforum (Billiards Forum)
Published: 1/21/2007 9:34:00 AM
Last Updated: 1/21/2007 9:49:25 AM
Last Updated By: billiardsforum
Rocky Lane Record Makes Hall of Fame Comments
There are not yet any comments. Please post one below. All comments are moderated.
Reply and share your comments below: