Dufferin Games Franchise Opportunities
Ever wonder how much it costs to run a Dufferin Games retail store franchise in Canada? This is an article from Dufferin in 2001 when they had several Ontario locations ready to go. Sadly this was just two years before they went under.
---
Dufferin Games Franchise Opportunities
Dufferin Games Franchise Opportunities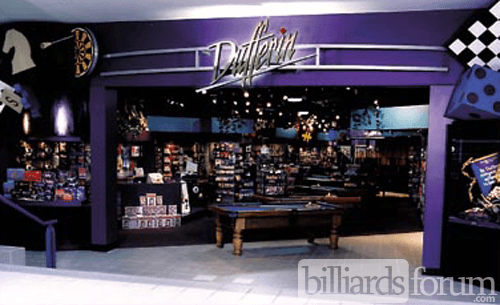 Dufferin Games, Canada's premier games store concept, has immediate franchise opportunities at the following Ontario locations:
Sherway Gardens, Toronto, ON
New Sudbury Centre, Sudbury, ON
Pen Centre, St. Catharines, ON
Intercity Shopping Centre, Thunder Bay, ON
For over 30 year's Dufferin Games has been bringing "Family and Friends Into Play!" in each of their 40 plus locations situated in shopping centres across the country. The company's name is synonymous with billiard tables and cues as well as traditional and leading edge family games and puzzles.
Now for a limited time, you can join our 'family' of successful franchisees and enjoy both work and play at the same time! We are looking for committed, experienced professional people to join our 'family'.
The above mentioned store locations are available for immediate possession. Experienced and trained teams of sales professionals are also in place at these locations.
A new Dufferin Games franchise store requires a total investment of $275,000 with a minimum cash investment of $130,000.
We provide full training, as well as the products, back-up support and systems to assist your growth. You provide the entrepreneurial spirit, drive and determination to succeed.
Together, we will have FUN!
To learn more about this exciting opportunity, please contact one of the following:
Sarah Stone, Business Affairs Manager, Dufferin Games Ltd., Mississauga, ON

Phone: (905) 677-7665 ext. 312 / (800) 268-2597
Fax: (905) 677-5640
E-mail: sstone@dufferin.ca

David Bishop, Meridian Retail Group

Phone: (905) 257-7483
Fax: (905) 257-5832
E-mail: david@meridianretail.com
Businesses mentioned in this article:
Title: Dufferin Games Franchise Opportunities
Author: billiardsforum (Billiards Forum)
Published: 4/5/2001 6:01:51 AM
Dufferin Games Franchise Opportunities Comments
There are not yet any comments. Please post one below. All comments are moderated.
Reply and share your comments below: