Dufferin Games Creates Licensed Marvel Pool Cues
Leading billiard and games manufacturer and distributor Dufferin Games, Ltd explores the Marvel Universe and inks licensing deal for Marvel comic characters and super heroes for use on Dufferin pool cues.
---
Dufferin Games Creates Licensed Marvel Pool Cues
Dufferin Games Creates Licensed Marvel Pool Cues
Spider-Man, X-Men, and the whole Marvel Universe of super heroes and villains make the jump from comics and celluloid to billiard tables and game room accessories in a world-wide licensing agreement between Dufferin Games Ltd. and Marvel Enterprises, Inc.
"We are very excited about introducing Marvel's comic book legends into Dufferin Games' product offering," says Claude Church, CEO of Dufferin Games, in announcing the news at this year's Billiard Congress of America International Trade Expo running July 19-21, 2001 at the Las Vegas Convention Center. "The Marvel brand is the perfect complement to Dufferin Games' product offering, with a fun, trendy range of merchandise that will create new excitement and awareness of billiards among the teen and college-age consumer demographic."
This is the first time Marvel has licensed its characters for use on billiard and game room products. Hot on the heels of the popular X-Men film, and with the upcoming release of the much-anticipated Spider-Man: The Movie, the licensing agreement is well-positioned to fill the inevitable flood of demand for character-based merchandise.
Dufferin Games' first Marvel-branded merchandise in the line is available for sale this fall through it's network of Dufferin Games retail stores as well as through their distributor network. The product range will include billiard cues and tables, billiard cloth, balls and accessories, along with dart game products, table games, including foosball, table hockey, and table tennis, casino products, and game room furniture and decor.
"Marvel's characters are enshrined in pop culture with a following that spans generations around the world," says Church. "Combined with Dufferin Games' merchandise quality and niche market, Marvel's characters give our products a collectibles nature that appeals to the whole family."
The Marvel line of billiard tables, accessories and games will be distributed through Dufferin Games and its extensive network of North American and international dealers, supported with a comprehensive POP and media campaign.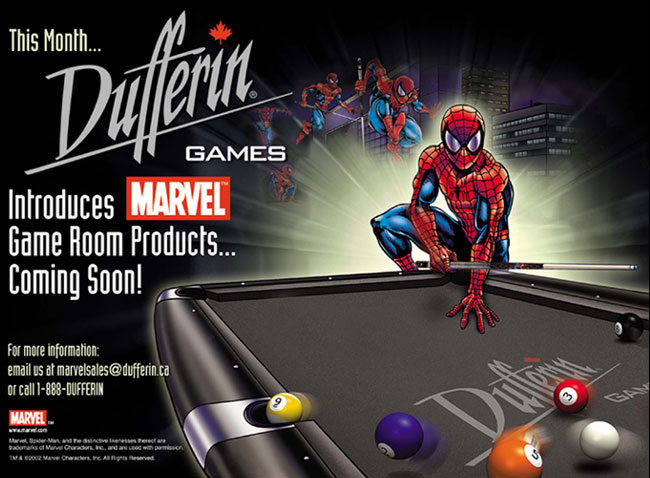 About Dufferin Games
Dufferin Games, located in Toronto, Ontario, is an international brand leader in the manufacturing and distribution of billiard cues and pool tables, game room furniture, and accessories. For more information contact (888) 383-3374 or e-mail globalsales@dufferin.ca
About Marvel Enterprises, Inc.
With a library of over 4,700 proprietary characters, New York-based Marvel Enterprises, Inc., a publicly traded company (NYSE:MVL), is one of the world's most prominent character-based entertainment companies. Marvel's operations are focused in five divisions: entertainment (Marvel Studios), licensing, toys (Toy Biz), comic book publishing and Internet/New Media. For more information visit the Marvel website at marvel.com.
Businesses mentioned in this article:
Title: Dufferin Games Creates Licensed Marvel Pool Cues
Author: billiardsforum (Billiards Forum)
Published: 7/19/2001 6:36:08 AM
Dufferin Games Creates Licensed Marvel Pool Cues Comments
There are not yet any comments. Please post one below. All comments are moderated.
Reply and share your comments below: