Rare Signed Billiards in the Twentieth Century Book by Riso Levi Book
---
Rare Signed Billiards in the Twentieth Century Book by Riso Levi Book
Rare Signed Billiards in the Twentieth Century Book by Riso Levi Book
Just last week (December 14, 2008) there was an auction for a rare billiard book called "Billiards in the Twentieth Century" that closed at almost $225 CAD. Regular copies of this historical publication by author Riso Levi sell on ebay for under $20 USD. What made this copy so special? Well, the book was a personal copy of the author, which he signed, supplemented with a letter, and sent it to his good friend Maurice Boggin on February 24th 1932. Here is the story and details. This book auction took place on ebay by a bookseller (not a billiard collector) from the UK (Great Britain) and it is not clear where they obtained it.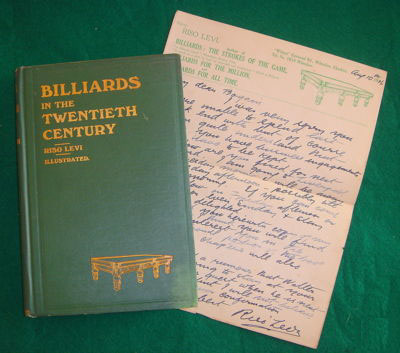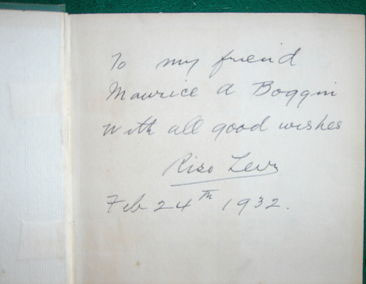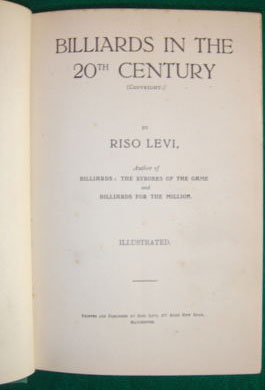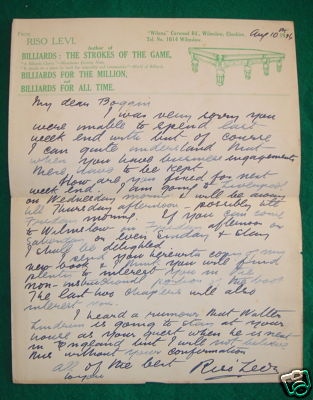 There were 9 bids in total over the course of the 6 day auction. In the final minutes of the auction, the highest bid was roughly $65 GBP, until a last-minute bidder doubled the bid to $120 GBP, but in the last second, the winner took it for $2 GBP more.
This particular copy of the book book was Riso Levi's personal copy of his great book Billiards In The Twentieth Century. Riso gifted this exact book to Maurice Boggin, to have as his own personal copy. This is a date-less [1st] edition which was privately printed by the author before the book went to the presses for sale in the market. The book was in its original green cloth binding and had only a damp mark to the front bottom corner and the same on the rear left corner, there are some other marks also on the back cover - see photo. The corners were bumped and there is some very minor foxing to a couple of front pages and the page edges, otherwise the book pages were very clean.
The book boasts 268 printed pages plus several additional pages of billiards related advertisements at the rear. (This advertising was a way for the publishers to pull in some extra coin.)
The most important detail about this book is that it was dedicated by the Riso Levi, the author, to his good friend Maurice Boggin on February 24th 1932. It also includes a personally signed letter to Boggin from the author, on his own headed notepaper (letterhead), in which Levi mentions one of the great billiards players of the time Walter Lindrum with a date of August 10th 1936.
Maurice Boggin was well known in the Billiard's World and during the 1929 Amateur English Championship made an Amateur Record break of 349 points. He lost to Sydney Lee in the 1931 final and to Horace Cole in the 1935 final.
This copy was one-of-a-kind, and is truly a piece of treasured billiard history.
Title: Rare Signed Billiards in the Twentieth Century Book by Riso Levi Book
Author: billiardsforum (Billiards Forum)
Published: 12/18/2008 10:28:00 PM
Rare Signed Billiards in the Twentieth Century Book by Riso Levi Book Comments
Bob Turner from England, United Kingdom on 12/7/2008 7:43:41 AM

I have just listed a book by Riso Levi on eBay. It is signed by him and comes with a letter from Levi to Maurice Boggin, which is also signed. The eBayitem number is 350137068112. I thought that it may be of interest to some of your members.

Best wishes,
Bob

Ian Halsall from Bath, Somerset on 12/29/2012 10:47:32 AM

I am sitting here transcribing my grandfather's letters from Australia to his sister in Burnley, Lancashire, England in the 1920s. In his letters he makes reference to a newspaper report that she sent him in early 1925 to "Boggins the billiard player". This puts his worlds in context and makes the 90 year old letters so tangible. Thank you!
Reply and share your comments below: