Info on Ivory Billiard Ball Set from Hakusui Ivory Co. of Yokohama, Japan
---
5/23/2020 12:33:33 PM
Info on Ivory Billiard Ball Set from Hakusui Ivory Co. of Yokohama, Japan
I came across the Billiards Forum and was pleased to read that you have a wealth of knowledge regarding billiard balls. I have been doing some research on an Ivory billiard ball set and I am hoping you might be able to assist me!
Please see the attached picture of three mint condition ivory billiard balls. They have never been used.
I am interested in selling them.
Based on a letter, I believe they were purchased directly from Hakusui Ivory Co. in Yokohama, Japan.
I look forward to hearing from you. Any information would be greatly appreciated!
Thank you,
Catherine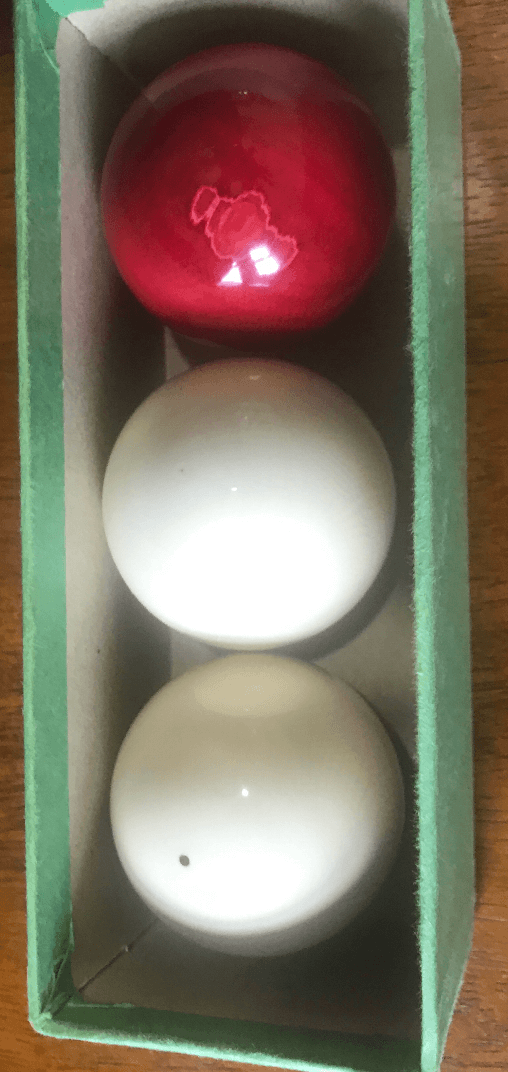 catmapes2
Info on Ivory Billiard Ball Set from Hakusui Ivory Co. of Yokohama, Japan
Replies & Comments
---
billiardsforum on 6/8/2020 2:14:55 PM

Hi Catherine,

It would be great to see clear photos of:

The external faces of the box (so that we can see the logos, trademarks, and other markings it may have)
The "letter" you speak of.

With those, we can undertake some further research into this Ivory carom billiard ball set.
Info on Ivory Billiard Ball Set from Hakusui Ivory Co. of Yokohama, Japan
Title: Info on Ivory Billiard Ball Set from Hakusui Ivory Co. of Yokohama, Japan
Author: catmapes2
Published: 5/23/2020 12:33:33 PM
Last Updated: 6/8/2020 1:55:32 PM
Last Updated By: billiardsforum (Billiards Forum)