RampageRachie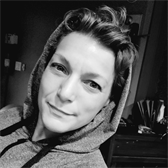 RampageRachie
Occupation: Quality Assurance Professional
Bellingham, WA United States
User Status
Offline
Last seen

1 month ago

Member for

1 month

74 profile views
Member #26529
About Me
My father-in-law Mike Smith was the one who taught me how to play pool.
I got used to the saying "Rack'em Rachel" for about a year until one night I actually beat him in a game of 8 ball.
Not knowing the whole time I was playing with a warped ol' McDermott 18 oz cue with a narrow tip he then handed me a Player 20 oz with a broad tip and told me to play again.
Naturally, I lost again and again until I won, then he handed me another different cue and, like always, played sink the eight on a bank shot.
When the day came were I had finally beat my teacher at every game he said "I was now ready and able to use any cue that was presented" so, I joined a local pool league and was very successful from that day forward.
Latest Activity by RampageRachie
Questions & Topics by RampageRachie:
Answers & Replies by RampageRachie:
Previous User Names
The current user RampageRachie has gone by the following user names in the past: