mbrons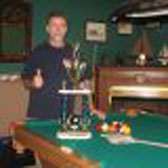 mbrons
User Status
Offline
Last seen

13 years ago

Member for

14 years

1300 profile views
Member #857
About Me
My wife and I shoot pool every night at home and I will be shooting in a league this fall. I am impressed with the scope and volume of info at this website and really want to take full advantage of it.
Latest Activity by mbrons
mbrons has not contributed as of yet.
My Gear
Playing Cue: Lucasi
Pool Table: Olhausen
My Vitals
Gender: Male
Marital Status: Married