My Kaiser Cue
---
6/14/2012 9:10:04 PM
My Kaiser Cue
In the past few years, Kaiser Cues are getting more and more popular. These Kaiser cues feature in CMC points, veneers, inlays, buck horn material, Canadian maple shaft, professional taper, water buffalo tip or layer tip, and much much more, at unbeatable price.
But most important, these cues have a solid hit! They are some real playing cues for any player.
Yes! Kaiser Cues look solid and strong. You can make a solid shot with a little strength from your elbow. I have tried Kaiser in recent years and just want to say:" WOW! Why don't I know it sooner?".
And here are my own Kaiser cues: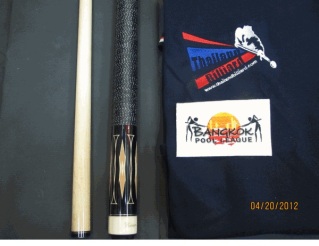 I also a member of Bangkok pool league and Thailand Billiard so I put their logo iron on patch too.
So whats your cue, guys?

thailandcues
My Kaiser Cue
Replies & Comments
---
My Kaiser Cue
Title: My Kaiser Cue
Author: thailandcues
Published: 6/14/2012 9:10:04 PM