Shooters Sports Bar Thursday 8 Ball Tournament in Manchester, UK
---
12/13/2014 3:00:32 PM
Shooters Sports Bar Thursday 8 Ball Tournament in Manchester, UK
Here at Shooters Sports Bar, located within the Bierkeller Entertainment Complex, we host a KO 8 Ball tournament every Thursday night.

Shooters Sports Bar The Printworks, Withy Grove Manchester M4 2BS, United Kingdom +44 845 533 3000 shootersportsbar.co.uk/manchester/
Its £2 entry and the pot is payed out to the winner, all players get a free portion of Nachos just for taking part. It starts at 8pm and is always a great atmosphere for the serious or casual player.
Not only do we have great pool but there are fantastic deals on Chicken Wings too. £2.50 for 10 wings and £9 for 50 with a variety of sauces available from Nuclear Hot to Blue Cheese.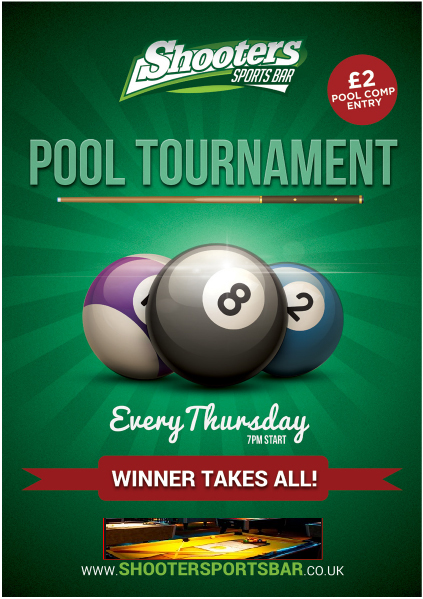 Shooters Sports Bar
Shooters Sports Bar Thursday 8 Ball Tournament in Manchester, UK
Shooters Sports Bar Thursday 8 Ball Tournament in Manchester, UK
Title: Shooters Sports Bar Thursday 8 Ball Tournament in Manchester, UK
Author: Shooters Sports Bar (Tom O'Brien)
Published: 12/13/2014 3:00:32 PM