Crown Billiards Weekly 9 Ball Tournament in Pompton Lakes, NJ
---
1/17/2011 3:48:52 PM
Crown Billiards Weekly 9 Ball Tournament in Pompton Lakes, NJ
Crown Billiards in Pompton Lakes, NJ has regular 9 ball tournaments as well as a handicap straight pool cash league tournament.

Crown Billiards 735 Hamburg Turnpike Pompton Lakes, NJ 07442 (973) 513-9266 njcrownbilliards.com facebook.com/CarmensCrownBilliards Open 1 pm to 1 am 7 Days a Week
Come and Participate in our Tournaments! We offer competitive play, high pay outs, and player recognition.
Tuesday 9-Ball Handicap Double Elimination Tournament
Starts at 7:30 pm
Entry fee $25
Free Practice starts at 6:30 pm
Break & Run Ticket Sales and Pull at 7:10 pm
Optional Calcutta / Player Auction at 7:15 pm
Thursday Handicap Straight Pool Cash League!
Round Robin Tournament Format
Running every THURSDAY night.
New sessions start First Thursday of Every Month at 7 pm!
$20 entry fee each night,
Play 2 or 3 matches each Thursday
Please email us or drop by and let us know if you are interested!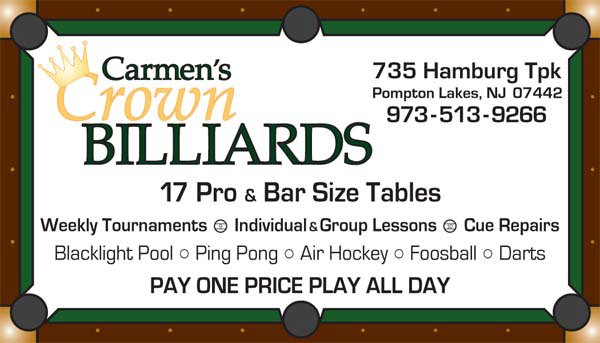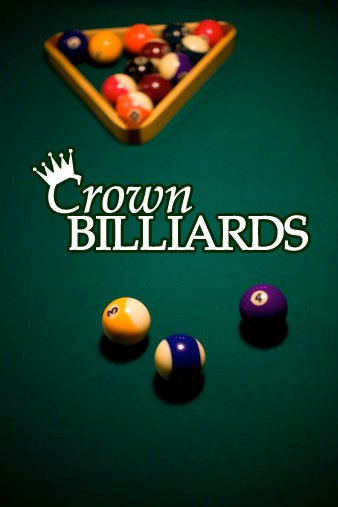 CrownBilliards
Crown Billiards Weekly 9 Ball Tournament in Pompton Lakes, NJ
Crown Billiards Weekly 9 Ball Tournament in Pompton Lakes, NJ
Title: Crown Billiards Weekly 9 Ball Tournament in Pompton Lakes, NJ
Author: CrownBilliards (Carmen Lombardo)
Published: 1/17/2011 3:48:52 PM
Last Updated: 1/17/2011 3:49:33 PM
Last Updated By: CrownBilliards (Carmen Lombardo)