Clicks Billiards Saturday 9 Ball Tournament in Waco, TX
---
3/27/2007 12:28:23 PM
Clicks Billiards Saturday 9 Ball Tournament in Waco, TX
Clicks Billiards in Waco, TX holds weekly Saturday 9-ball tournaments. The next one is April 7, 2007. Entry fee is $30, and field is limited to the first 32 paid entries.
This is NOT an open event. You may play if you have not had a 5-6th or better finish in any major tournament i.e. Fast Eddies 9Ball Tour, Midwest 9 Ball Tour, Joss Northeast Tour etc.

We now have a council to determine eligibility for players that do not play in tournaments or may have had a 5-6th or better finish with extenuating circumstances.

Please call to see if you qualify. If you are coming from out of town, you must call when you are leaving your area or mail your entry in early. You must be present at 11:00am or any "stand-by" players will be awarded your spot. NO EXCEPTIONS.

To pull this off in 1 day we must start ON time.

The Players at the March event voted and there will be NO more seeding. All draws will be random!

We will be having a $100 entry ring game on Friday April 6th at Shooters on New Road. It is Texas Holdem Style with 1000 in chips issued for your entry. This does include a $10 green fee. Payout has been 1st,2nd,3rd. We have been voting at the players meeting on # of places to pay. There has also been action if you just want to come up and play or watch.

Ray Hansen 866-252-6076 toll free cell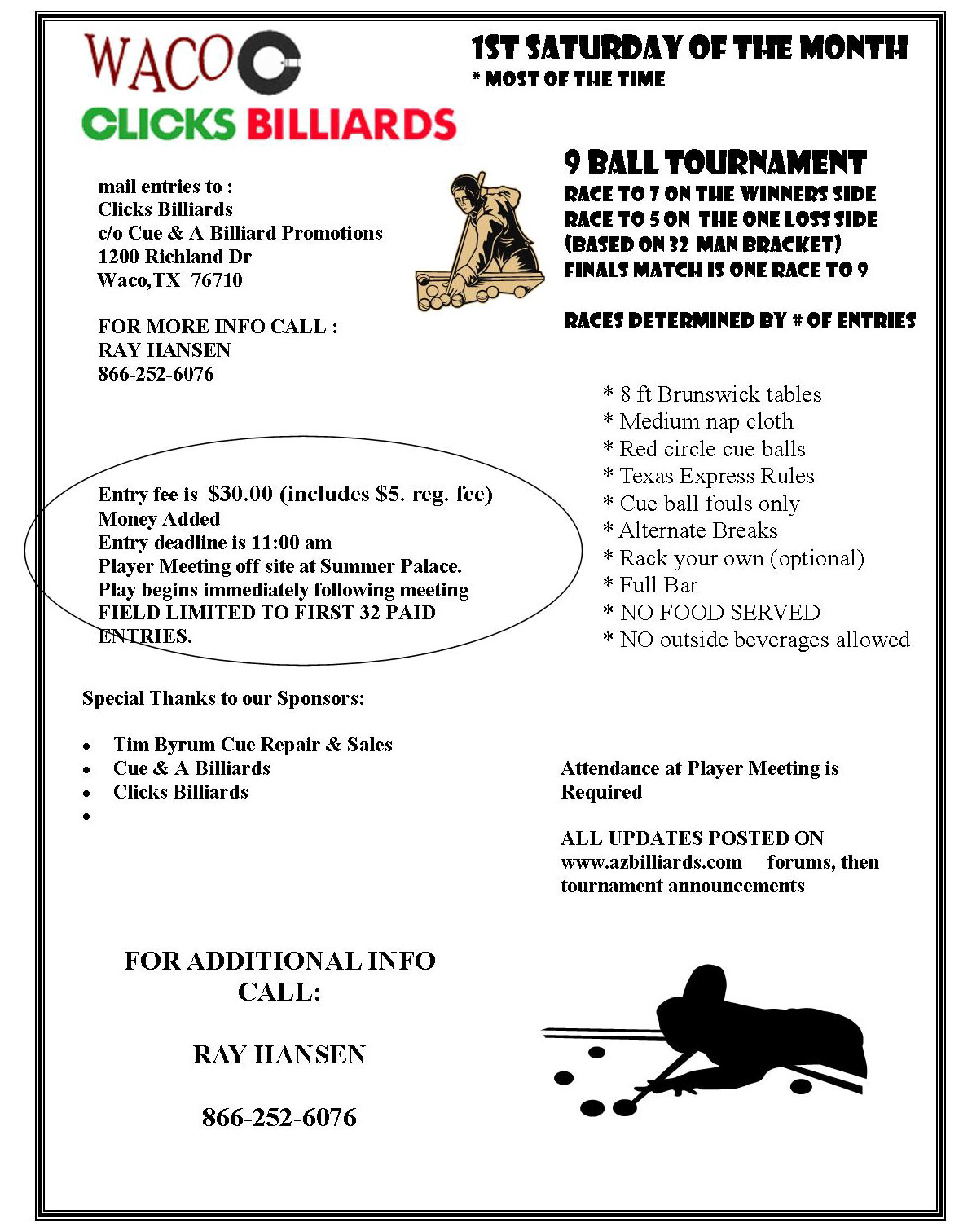 An error occurred on the server when processing the URL. Please contact the system administrator. If you are the system administrator please click
here
to find out more about this error.