Regulation Size
---
6/1/2010 9:25:12 AM
Regulation Size
Can you tell if this Brunswick pool table is regulation pool table size by just looking at it?
Is it a regulation size pool table?
Also, what size are the balls that generally fit this pool table?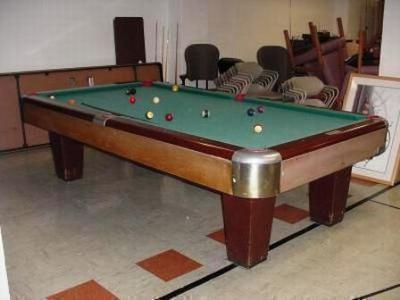 governmentauctions.org/blog/index.php/2010/05/30/brunswick-pool-table-plus-accessories-better-than-exit-9/
ShooterMcGavin
Regulation Size
Replies & Comments
---
Mitch Alsup on 6/1/2010 1:58:04 PM

From the add it is impossible to determine.

However, Brunswick makes some very nice and some completely practical pool tables.

As to regulation, Tables can be 7-foot, 8-foot, 8-foot oversized, 9-foot and even 10-foot and be "regulation".

More important to you, is that the bed of the table be slate.

As to ball size--to be safe, you can buy a set of new balls for $70 through $250 depending on the roundness and durability you may desire.
Regulation Size
Title: Regulation Size
Author: ShooterMcGavin
Published: 6/1/2010 9:25:12 AM