Rare Fischer Pool Table for Sale
---
8/13/2012 6:20:51 PM
Rare Fischer Pool Table for Sale
This one-of-a-kind Fischer pool table would be a treasure for any collector.
For sale is a 9' x 4.5' Fischer pool table.
springfield.craigslist.org/tag/3203535677.html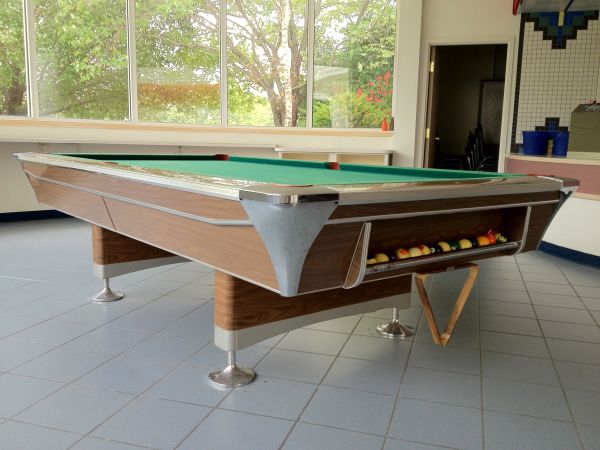 This rare one-of-a-kind Fischer Pool Table is being sold by the grandson of Ewald Fischer, president and founder of Fischer Pool Tables in Tipton, MO.
This 9' x 4.5 one-piece marble topped playing surface (10 x 5 overall) is the only one in existence. It was a prototype which never went into production but was kept as the personal table of the Fischer family.
This very table was played on by many World Champions and Hall of Famers including: Willie Mosconi, Don Tozer, Dorothy Wise, just to name a few.
This prototype was made with a one-piece marble top from the mines in Carthage, MO. and shipped to the factory in Tipton, MO. where it was hand built into a frame with an integrated rail system which returns balls to the front of the table.
The top cushion is removable and originally offered two other cushion sets for Snooker and 3-Cushion Billiards. Only the regular cushion set in the pictures remains.
The others disappeared from the factory when it was sold to Spalding Company in 1969.
The original factory in Tipton, MO still has the worlds largest 8-ball water tower standing near the old factory (pictured below).
This Fischer pool table is old and shows its age but everything functions well and is still in use today.
willie
Rare Fischer Pool Table for Sale
Replies & Comments
---
Dean Tapper on 1/22/2013 8:18:39 PM

I too have a Fischer table. Very similar to this one.

I was wondering how much it is worth.

I know it's not the ordinary-style of Fischer pool table. I don't want to settle for just $600.

Or I'd like to sell to a collector. My name is Dean, and my number is (810) 531-3547.
Rare Fischer Pool Table for Sale
Title: Rare Fischer Pool Table for Sale
Author: willie (Todd Mertes)
Published: 8/13/2012 6:20:51 PM