9' Brunswick Cromwell Pool Table for Sale in San Diego, CA
---
6/5/2010 9:21:08 AM
9' Brunswick Cromwell Pool Table for Sale in San Diego, CA
I'm selling my dad's 9' Brunswick Cromwell pool table on ebay for a great price. See the listing for a Brunswick Cromwell pool table:
cgi.ebay.com/ws/eBayISAPI.dll?ViewItem&item=280517020456&ssPageName=ADME:L:LCA:US:1123
Item #: 280517020456
Currently it's stored with Olhausen Billiards in San Diego, CA. Buyer will make their own shipping arrangements. Please let me know if you have any questions. I don't have a place for the table and don't play billiards really and so I'm willing to make a deal to get rid of this thing and the storage fees. It's a great pool table.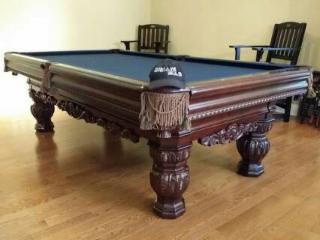 ragged326
9' Brunswick Cromwell Pool Table for Sale in San Diego, CA
9' Brunswick Cromwell Pool Table for Sale in San Diego, CA
Title: 9' Brunswick Cromwell Pool Table for Sale in San Diego, CA
Author: ragged326
Published: 6/5/2010 9:21:08 AM