8ft Pre-1941 Pool Table and Accessories for Sale
---
11/15/2015 5:32:21 PM
8ft Pre-1941 Pool Table and Accessories for Sale
I have a Pre-1941 8ft pool table that was placed in our home prior to construction being completed in 1941. There is a placard that lists C.P Dean (Richmond, VA) as the manufacturer.
Our table appears similar to the CP Dean Greenbrier pool table model.
Our pool table appears to be one slate piece and needs TLC on the felt and pockets.
We are looking to sell to a new home looking to restore it(seller to pay for professional disassembly and moving costs). Professional Moving within 50 miles and refelting has been estimated at $700.
I am located in Portsmouth, VA . We are open to offers on the table and accessories. More pics available upon request. Thanks!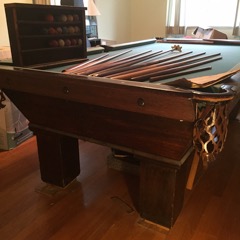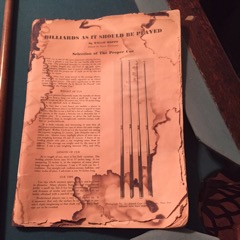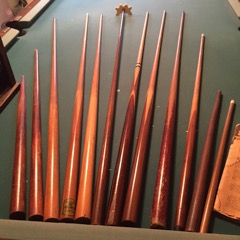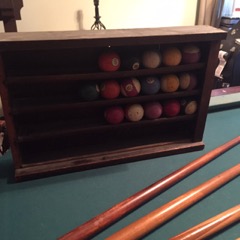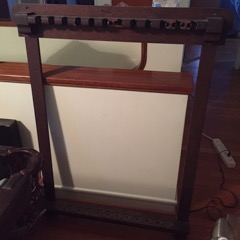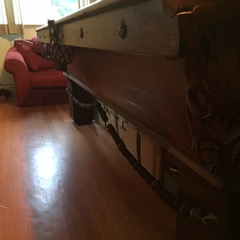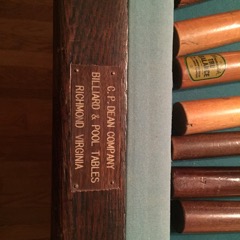 WM2002
8ft Pre-1941 Pool Table and Accessories for Sale
Replies & Comments
---
WM2002 on 11/16/2015 8:05:44 PM

Currently Selling for $1000 as well as buyer paying for professional disassembly and assembly.

Zeke on 11/17/2015 7:37:04 PM

Sounds eminently fare.
8ft Pre-1941 Pool Table and Accessories for Sale
Title: 8ft Pre-1941 Pool Table and Accessories for Sale
Author: WM2002 (J. Donecker)
Published: 11/15/2015 5:32:21 PM