Price for Olhausen 9 ft Coronado Mission model
---
10/17/2008 11:32:07 AM
Price for Olhausen 9 ft Coronado Mission model
I saw an add on a Craigslist for a pool table which is recommended in this forum, 9ft Olhausen pool table.
This is an Olhausen 9 ft, 3 piece slate, Simonis cloth, drop pocket pool table in excellent condition. The picture is the table except mine has green cloth. Construction: Solid Oak Rail Sights: Diamond – Pearlized Slate: Framed Diamond-Honed Pockets: Leather It is a Mission style Coronado.These were very hard to find when I was shopping. Includes balls and rack. Retailed for $5295. Will consider all offers. Must be picked up. Thank you.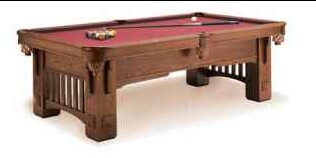 Does anyone have an idea how much I should make an offer for this table please?
haodzuno
Price for Olhausen 9 ft Coronado Mission model
Price for Olhausen 9 ft Coronado Mission model
Title: Price for Olhausen 9 ft Coronado Mission model
Author: haodzuno
Published: 10/17/2008 11:32:07 AM