My Ghetto Pool Room, First Post Here
---
8/4/2008 7:10:50 PM
My Ghetto Pool Room, First Post Here
Whats poppin' everyone, I'm new to this forum and I thought what better way to introduce myself then to show a picture of where I play 90% of my pool.
I live in a 750 square foot apartment and I think that I am the only one out of the 500 apartments in the complex that managed to make room for a pool table in the apartment. I've squeezed as much stuff in the room as I could to make it look more 'bar like' and there is just enough room to shoot comfortably no matter where you are on the table. Well here it is.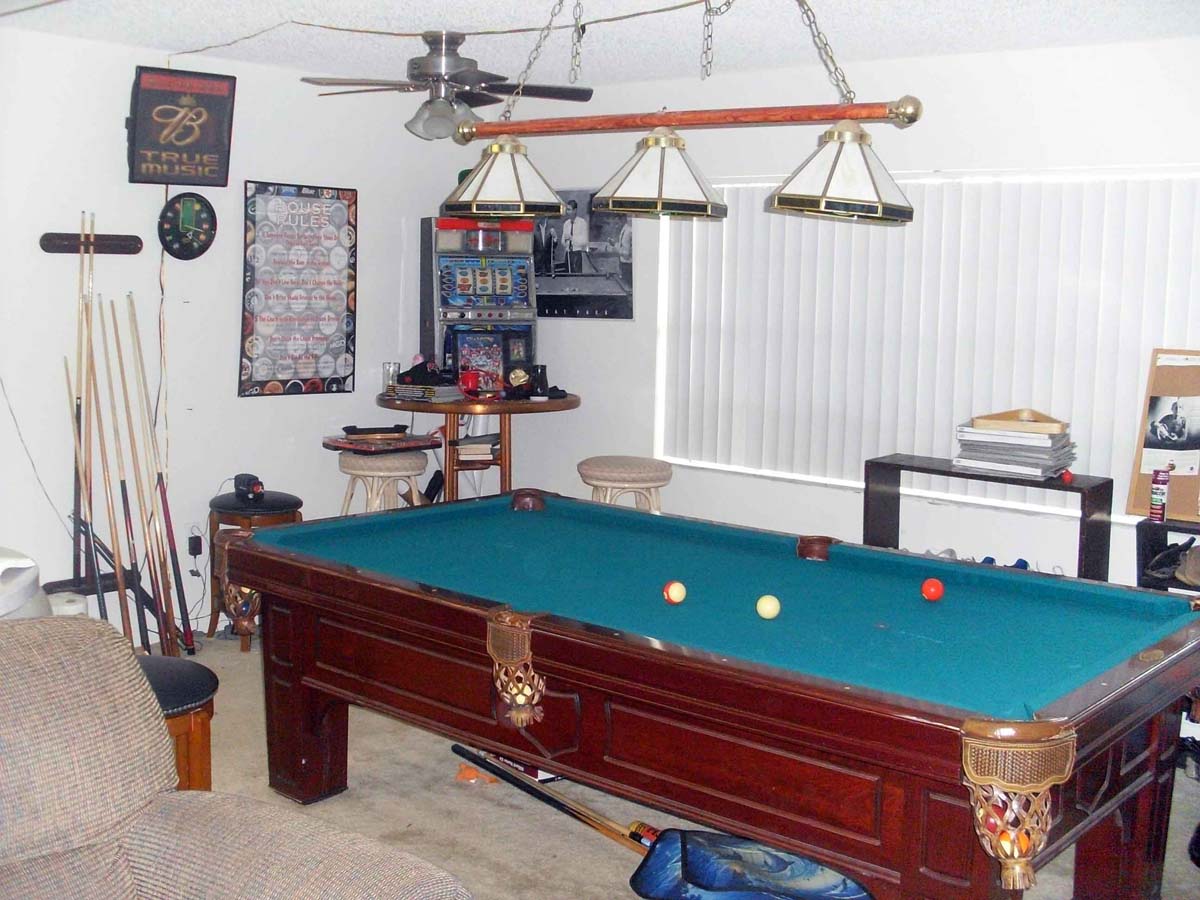 It's a Pro Line Billiard Table, I'm not sure if that company makes the best pool tables or not but I love playing on it. The thing weighs about a ton and I've had to move it 3 times in the last 2 years because I keep switching apartments. I bought it off a friend for 500, he had bought it new a year before he sold it to me for a couple grand. I got a kid on the way and everyone is telling me to get rid of the pool table to make more room for the baby, pshhh!
When I was growing up I sure wish that I had a pool table!
poolhustler
My Ghetto Pool Room, First Post Here
Replies & Comments
---
flyguy on 11/17/2009 5:39:42 AM

Nice table - and I agree with the sentiment. I grew up playing on my best friends table, and was very fortunate that I lived right by him. Now my kids play on my table all the time. Raise 'em right, I say!

Fastfish on 6/16/2014 7:25:19 PM

You did the best you could with the space. I could have never fit one in my old apt. Nicely done.
My Ghetto Pool Room, First Post Here
Title: My Ghetto Pool Room, First Post Here
Author: poolhustler (David Spates)
Published: 8/4/2008 7:10:50 PM