Replacement Chrome Parts for Brunswick Centennial Pool Table
---
1/24/2012 8:09:02 AM
Replacement Chrome Parts for Brunswick Centennial Pool Table
I am looking for the aluminum or chrome parts for a Brunswick Centennial pool table.
I am talking about the chrome trim around the bottom of the legs and around the entire playing surface of the billiard table.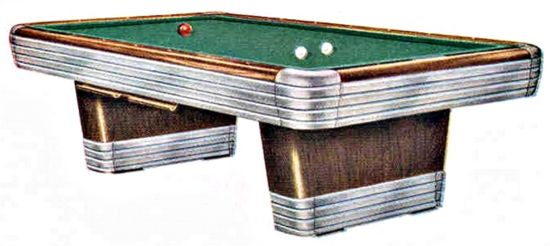 Does anyone know where I can get them?
petersu
Replacement Chrome Parts for Brunswick Centennial Pool Table
Replies & Comments
---
Mitch Alsup on 1/24/2012 12:29:29 PM

You might want to contact Brunswick Billiards. You might be able to order a factory-made replacement set.

p3ga on 2/16/2012 6:39:38 PM

Check with Ken at Classic Billiards in Baltimore, MD. He has a great number of parts that are impossible to find elsewhere. Has some "new old stock" pool table parts for Brunswick Centennial tables, Brunswick Anniversary tables, Sport King pool tables, etc., as well as many reproduction parts too.

The Centennial was the Rolls Royce of Brunswick tables, and a clean restored Centennial table is worth big money. Because of that, some replacement parts are priced accordingly.

Ken knows his stuff too. He was an invaluable resource as I refurbished my pool table.
Replacement Chrome Parts for Brunswick Centennial Pool Table
Title: Replacement Chrome Parts for Brunswick Centennial Pool Table
Author: petersu
Published: 1/24/2012 8:09:02 AM