Irving Kaye table parts
---
11/2/2010 12:15:52 PM
Irving Kaye table parts
Hello, I was wondering if you can still buy Irving Kaye coin op parts I was wondering about pockets and rails mainly?
I am thinking about buying one and was just curious about parts. Aftermarket, original makes no difference I am hoping there are just bolt on parts available so I won't have to modify rails.
Here is a picture of the table I might buy I was told it was a 67
Thanks for any info, King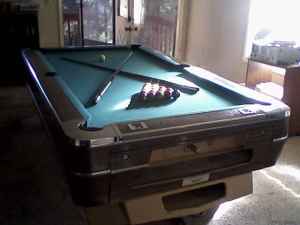 kingcain
Irving Kaye table parts
Replies & Comments
---
probilliards on 11/3/2010 6:50:57 AM
kingcain on 11/3/2010 9:06:06 AM
irvingkaye on 5/31/2011 1:48:58 PM

Nice Irving Kaye Eldorado 66. Upload photos of your table at http://IrvingKaye.com we have put together a timeline and are assembling a SN database.
Irving Kaye table parts
Title: Irving Kaye table parts
Author: kingcain (Roger Edson)
Published: 11/2/2010 12:15:52 PM