Irving Kaye table parts
---
11/2/2010 12:15:52 PM
Irving Kaye table parts
Hello, I was wondering if you can still buy Irving Kaye coin op parts I was wondering about pockets and rails mainly?
I am thinking about buying one and was just curious about parts. Aftermarket, original makes no difference I am hoping there are just bolt on parts available so I won't have to modify rails.
Here is a picture of the table I might buy I was told it was a 67
Thanks for any info, King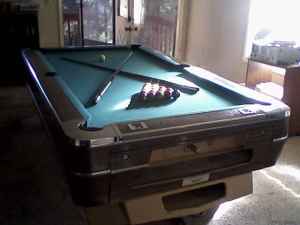 kingcain
Irving Kaye table parts
Replies & Comments
---
probilliards on 11/3/2010 6:50:57 AM

You can get a rail set at Penguin - http://www.penguinamusement.com/details.php?pid=rails_uncovered They sell them covered or uncovered. I'd suggest you call about the rails and get the scoop on how to install them (wood screws vs. rail bolts). Ask for Fred 866-772-3636.

The standard pocket liners that we and everyone else sell are too short for IK tables and won't work. Ken Hash at Classic Billiards has them (pricey) at http://www.classicbilliards.net/html/coinopparts.cfm

kingcain on 11/3/2010 9:06:06 AM

OK great thank you.

irvingkaye on 5/31/2011 1:48:58 PM

Nice Irving Kaye Eldorado 66. Upload photos of your table at http://IrvingKaye.com we have put together a timeline and are assembling a SN database.
Irving Kaye table parts
Title: Irving Kaye table parts
Author: kingcain (Roger Edson)
Published: 11/2/2010 12:15:52 PM