Brunswick Regina table leg veneer
---
5/16/2009 1:00:55 PM
Brunswick Regina table leg veneer
Does anyone know someone who can recreate the decorative inlay veneer panels that go on an antique Brunswick Regina table leg?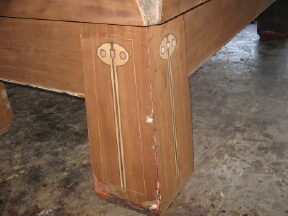 dduffett
Brunswick Regina table leg veneer
Replies & Comments
---
muhledog on 2/18/2010 2:50:22 PM

These people can do it.

acutemarquetry.com/home.html

user1513168760 on 12/13/2017 7:39:00 AM

Currently restoring one. Go to my facebook page "My Master's Craft".
Brunswick Regina table leg veneer
Title: Brunswick Regina table leg veneer
Author: dduffett (D Duffett)
Published: 5/16/2009 1:00:55 PM