Rosatto Barry Street Co. Pool Table
---
1/23/2008 1:11:07 PM
Rosatto Barry Street Co. Pool Table
I have a 9' billiard table made by Rosatto Barry Street Co. with square legs and drop pockets with irons that sit on top of the rails much like an old Brunswick Billiards pool table.
I believe it was made around 1900 because of the way the rails are bolted to the side of the slates with caps that cover the bolts.
I am looking for any info on the Rosatto Barry company and this type of pool table.
Thank you for any info you may have.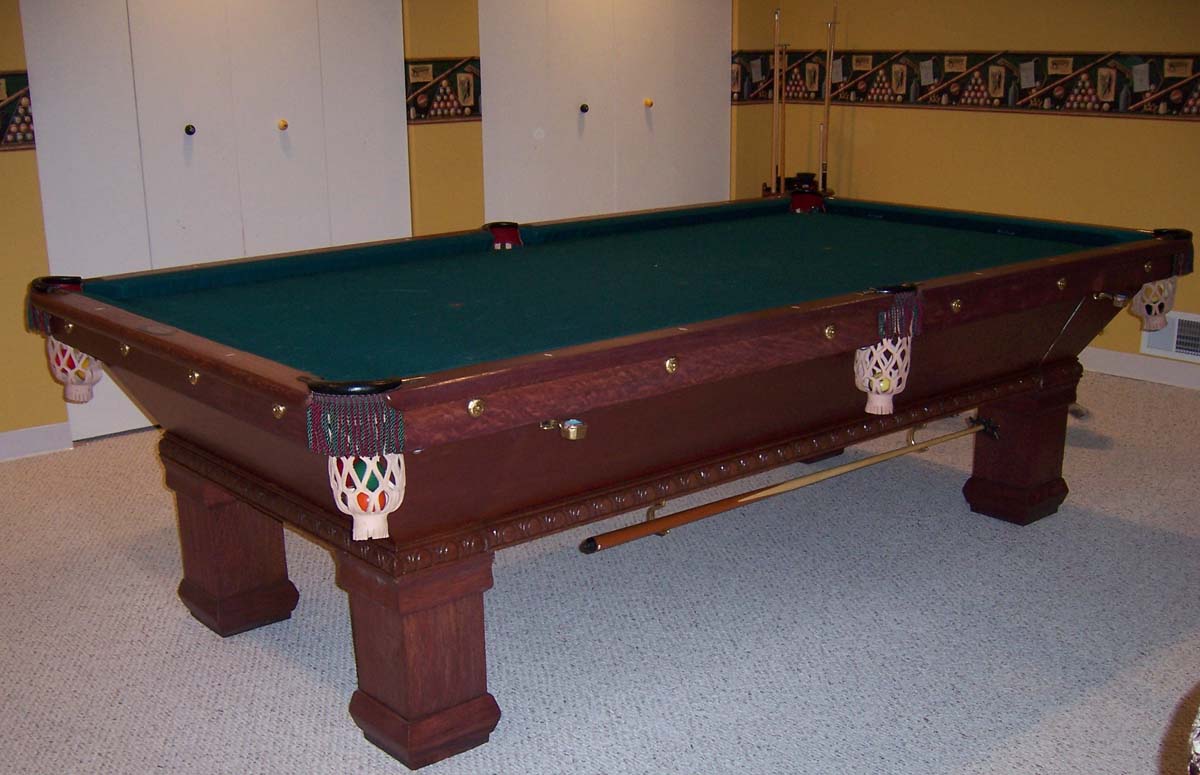 bbuss
Rosatto Barry Street Co. Pool Table
Replies & Comments
---
travisa29 on 2/26/2012 4:27:42 PM

yes i have a pool table that is all stamped and i know that rosatto barry put a ball return in it due to ffinding 1866 stamp then you could see what was added by the age of it and the tooling dates back some was over a 100 years in my case but still i find little of the true maker of the table i wish i could it would be nice have all the pics

mikezg13 on 3/1/2012 12:42:04 PM

I am doing research for a friend. His pool table looks exactly the same as the BEAUTIFUL brunswick "Narragansett" 41/2' X 9' pool table with return, and 1" slate.

I couldn't tell you how many pieces of slate it has. There are two manual locks attached to the main supports. The manual locks are the same type as a dead bolt on a door. It is strange to see them used in pool table construction.

All frame numbers are matching. All supports are matching numbers.

Under the pool table the only identifier is the original tag attached by nails/brads. It states:

To: is left blank with no name
From: Frank Rosatto, Builder of pool tables and shuffleboards and supplies. Philadelphia, Pa.

This table has a Brunswick-Balke-Collender with Monarch Cushions brass plate embedded in the top rail. Is the brass plate from some other table?

Did Rosatto Barry ever build tables for Brunswick? If not, how could Rosatto build a pool table exactly like a Brunswick model?

Any and all help will be appreciated. There is a mystery here and we need to unfold it.

bbuss on 3/1/2012 4:45:06 PM

I know my table is a Rosatto Barry pool table because I lost the bolts that hold the rails to the slates. It took me 6 months or more to find the right bolts.

The rail bolts on a Brunswick pool table are 3/8 by 14 thread and the Rosatto Barry pool table are 3/8 by 16 thread.

Try Lanza Billiards in Runnemede, NJ. He told me his grandfather bought Rosatto Barry back in the 1950s. He had all the bolts I was missing.

Good luck.
Rosatto Barry Street Co. Pool Table
Title: Rosatto Barry Street Co. Pool Table
Author: bbuss (Bob Buss)
Published: 1/23/2008 1:11:07 PM