Selling My Pool Cue Collection
---
1/8/2013 10:51:34 AM
Selling My Pool Cue Collection
I am selling my pool cue collection. I'm not a professional cue seller. I'm an old Certified Instructor who has collected a number of cues over the years, and need to sell them to meet financial needs.
They are mostly collectible-grade pool cues.
You can see them at: sites.google.com/site/donnylutzpool
All of these pool cues are for sale, and all have pool cue cases too.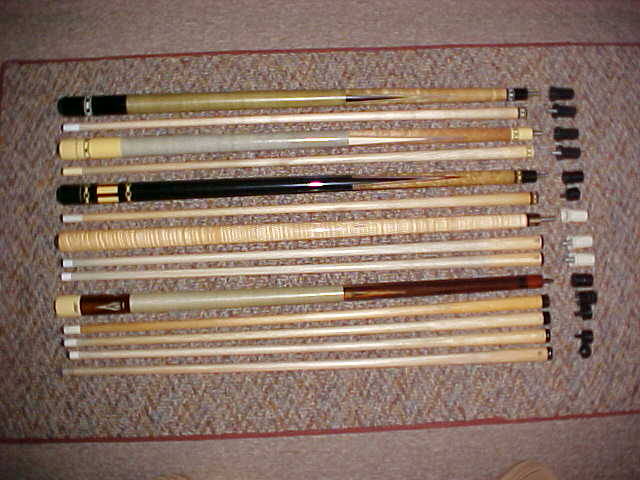 1984 MEUCCI ORIGINAL - 84-3 - 58", 19 oz., 13mm, 2 Fine Ebony points. (SOLD)
1984 MEUCCI ORIGINAL - 84 -4 - 58", 19 oz., 13mm, 2 White Implex points. (SOLD)
1984 MEUCCI ORIGINAL - 84 -5 - 58", 19 oz., 13mm, 4 Ebony points, Black Diamond tip. (SOLD)
2005 PECHAUER CUSTOM - SP- 58", 19 oz., Predator shafts, Moori, Kamui tips. (SOLD)
1987 JOSS CUSTOM w/4 shafts. $1,000, comes with 4 shafts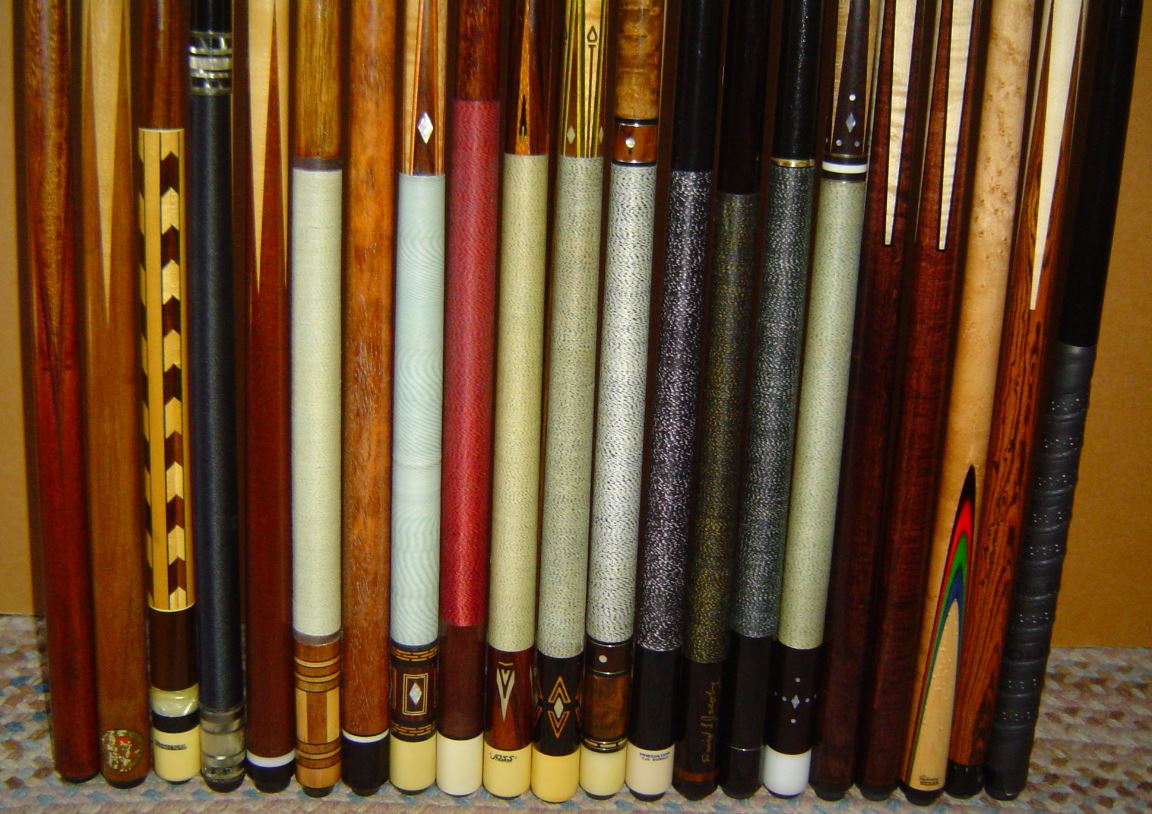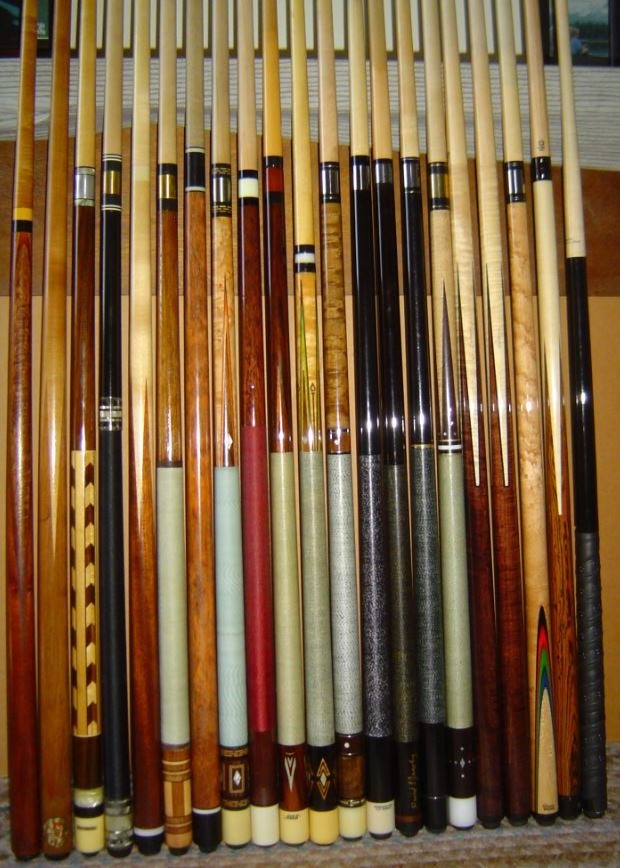 SAUNIER-WILHELM Pool Cue - 1900-1920s -55", 18 oz. 12.5 mm, Triangle tip
BRUNSWICK one-piece cue - 1920s -58", 22 oz. 13mm, Karomi tip
NATIONAL CUE - 1969 - 58", 18 oz., 13mm, ? tip
DYNABALL cheapie, '70s 57", 18 oz., 13mm, ? tip
BRUNSWICK Conversion cue - 58", 16 oz., 13mm, Emerald tip
ABE RICH? 1960-70s? 57", 20 oz., 13mm, ? tip, Cortland wrap,
Unknown ASIAN maker 1970s, 57", 19 oz., 13mm, Tip ? tip. Has a very stiff hit
ADAM cue, 1970s cue, 58", 19 0z., 13mm, ? tip
Custom JOSS pool cue - c. 1987 cue with four shafts (Pred & OB) 58", 19 oz., 13mm LePro
JOSS Break cue - 1980s, 54", 16 oz., 13mm White Diamond tip
PALMER knock-off - 2005, 58", 19oz., 13mm LePro tip
PREDATOR First Edition 314, 58", 18 oz., 12.6mm Moori M
JACOBY - 1997 - 2 shafts, 58", 20 oz., 13mm, ?tips
ACTION Jump/breaker 2009?, 58", 19 oz., 13mm, White Diamond tip
BOB ZIDE cue - 2012, 57", 19 oz., 13mm, LePro tip
PECHAUER Sneaky - 2013, 58", 18.5 oz., New LD shaft, 11.75mm Emerald tip
PECHAUER Sneaky - 2013, 58", 18.5 oz., 12.8mm Gold tip
PECHAUER Breaker - 2012, 58", 19 oz., 13mm, Black Diamond tip
OB 120 Sneaky - 2013 New!, 58". 18.5 oz., New LD shaft, 11.75mm Everest M tip
MIKE GULYASSEY "Reaper" cue, 4-piece Jump combo, 10" - 54", 11 oz. total weight, with vinyl tennis wrap

Donny Lutz
Selling My Pool Cue Collection
Selling My Pool Cue Collection
Title: Selling My Pool Cue Collection
Author: Donny Lutz
Published: 1/8/2013 10:51:34 AM