Richard Black Pool Cue For Sale $1200
---
1/21/2007 6:14:00 PM
Richard Black Pool Cue For Sale $1200
I have here a really nice older Richard Black pool cue for sale. It is an EXCELLENT players cue and it comes with 2 shafts. Asking $1,200 obo, includes shipping and insurance via USPS Priority mail within the USA. PAYPAL is Ok, just need to add 3%

Dark Natural Phenolic Buttcap with an Ivory Hoppe ring, Rosewood Buttsleeve. The buttsleeve has a couple small dings in the finish; Hoppe ring has a small/repaired blemish too.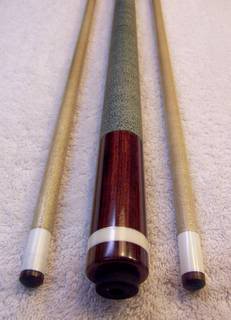 Four Long Rosewood Points with 4 Veneers - Natural/Yellow/Orange/Black, Straight Grained Maple Forearm w/Logo It is awesome!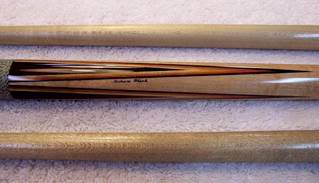 A 5/16-14 SS pin, SS Joint with Dark Natural Phenolic collar and SS accent ring; 2 Piloted shafts with matching collars and ringwork.
White with Black Spec Irish Linen wrap in Excellent "Played" condition.

This cue rolls straight together or apart.
Cues Specs:
Shaft #1 - 29", 12.3 mm Ivory ferrule with Moori tip, 3.8 oz
Shaft #2 - 29", 12.5 mm LBM ferrule with Moori tip, 3.7 oz
Butt - 28 11/16", 15.3 oz

krbsailing
Richard Black Pool Cue For Sale $1200
Richard Black Pool Cue For Sale $1200
Title: Richard Black Pool Cue For Sale $1200
Author: krbsailing (Ken Boyle)
Published: 1/21/2007 6:14:00 PM