Al Bautista Butterfly Cue for Sale
---
10/7/2009 11:14:04 AM
Al Bautista Butterfly Cue for Sale
I am selling a pool cue made by AL Bautista. The cue is in brand new condition, and I have only just test hit with it.
My asking price is $390 (was $500). Shipping cost not yet included. I can ship this cue anywhere in the world.
If anyone is interested just let me know.
The reason I am selling the pool cue is that I need money for supplies and food because our area was hit by typhoon "ONDOY"
Specs:
Shaft - Maple, 12.75 mm tapered (tight grained - A grade) 1a1 shaft (low deflection - solid Hit)
Tip - pressed elkmaster tip
Ferrule - PVC (1.75 cm)
Joint collar and butt cap - Black linen phenolic
Rings: SW style
Joint - 3/8 x 11(brass) RADIAL
Forearm - Birdseye Maple
Points - Tulip wood
Veneer - Green / Orange
Butt - Birdseye Maple
Handle - Pressed Irish Linen Wrap
Height: 59"
Weight: 19 oz
The pool cue comes with a free 1x1 hard pool cue case!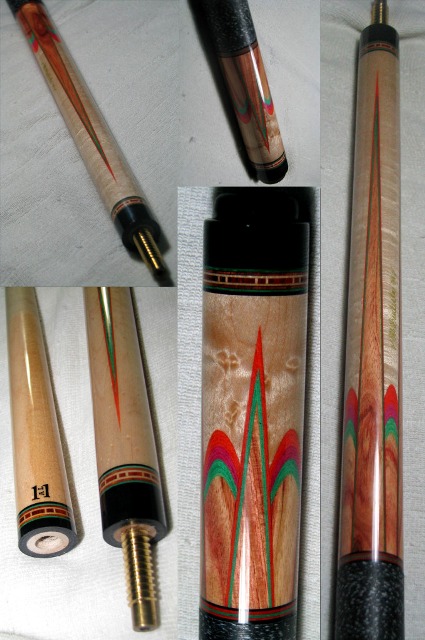 Blizzard
Al Bautista Butterfly Cue for Sale
Replies & Comments
---
Blizzard on 10/12/2009 10:46:38 AM

Anyone interested in this Al Bautista pool cue?

I can lower the price. Just let me know.

Richard Low on 12/25/2017 7:10:54 PM

I want to pay less than this price. What is your lowest price for the cue? It's just a maple cue.
Al Bautista Butterfly Cue for Sale
Title: Al Bautista Butterfly Cue for Sale
Author: Blizzard (George Santiago)
Published: 10/7/2009 11:14:04 AM