Help Id cue
---
8/25/2011 12:27:57 AM
Help Id cue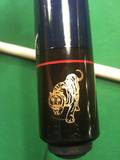 My favorite cue a friend found at a pawn shop it has a tiger on it but it is not tiger brand cues the logo is diffrent please help
Cuet
Help Id cue
Replies & Comments
---
guest on 2/22/2012 9:47:53 AM

I have one too ! It's at least 28 years old and I just got it from my grandfather. It was bought in Germany. If someone could help ID this cue it would mean a lot. Thanks in advance

osage24 on 3/13/2012 8:51:00 AM

I know it is not a Tiger brand cue. I will look in the blue book and see if I can find it. Have you taken the butt plug off and is there anything written inside the cue?
Help Id cue
Title: Help Id cue
Author: Cuet
Published: 8/25/2011 12:27:57 AM