Leisure bay pool table
---
5/19/2009 11:15:01 PM
Leisure bay pool table
I have found a Leisure Bay aurora pool table for sale in my area for a good price. I know that Leisure Bay doesn't make the nicest pool tables ever, and that they only cost around $1500 new. And I know they are known to sometimes have bad rails, hard pockets, and 3/4 to 1" slate.
Does anybody have any real experience with Leisure Bay pool tables or have any feedback on this specific Leisure Bay Aurora pool table?
I can get one that is visually in great shape (I have not inspected it yet) for $500 with a set of balls and pool cue sticks.
I am assuming that I should have somebody move this? I could move it easily but setting it back up I dont know anything about. I have moved pool tables before but have never set one up.
Here are some pictures: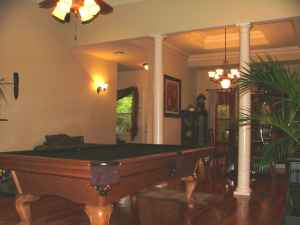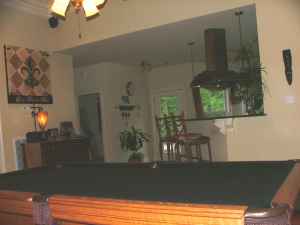 At $500, do you think this pool table is worth it? Any advice is appreciated.
t0talkos
Leisure bay pool table
Replies & Comments
---
Mitch Alsup on 5/23/2009 6:08:40 AM

If you have normal household skills, you can disassemble the table and move it--bee exceedingly careful with the slate.

There are a number of skills needed to set up a table such that it is flat and level. In addition putting the felt/cloth on the table such that it is taught and nicely tucked in is a job for someone who has done it several times. The way the cloth is cut when tucking in the side pockets is nonobvious.

I suggest you look into a "table mechanic" to put the table back in working order, and tune it up for best playing ability.

castilloroofs on 9/3/2010 2:36:53 PM

if u can move it without having to disassemble the top, if u really want it, buy it. itz not a great deal unless u r desperate for a pool table. definitely not worth it if u have to disassemble top to move it.... might as well buy new and have it prepared in your home.

guest on 8/3/2011 6:37:39 PM

I have the same table for about 18 yr, it has been great, I play 5 hr a week on the table for practice. just now did develop a dead section of rail near a pocket. I pulled the rails and found a couple of cracks where the rail is dead.

check all the rails for good bonce, that's a great price' I wouldn't sell mine for that price, not even close to what I would want.

Anyone know how to fix the rail without replacement.
Leisure bay pool table
Title: Leisure bay pool table
Author: t0talkos
Published: 5/19/2009 11:15:01 PM