Any Cues Like the Lucasi LD8 But Made in USA?
---
12/11/2012 3:58:43 PM
Any Cues Like the Lucasi LD8 But Made in USA?
I've been shooting pool since I was about 12. I can hold my own, but I am nowhere near as good as I'm sure many reading this are. I'm still susceptible to this mental block where I tend to shoot at the level of my competition. Sometimes I shoot great, sometimes you'd think I never stepped up to a table.
It gets interesting when all of a sudden I come across my game after shooting like crap for a while though. People who watch too many movies tend to call me "shark" or whatever when that happens. LOL. I suppose it's to make themselves feel better.
But anyhow, the reason I'm here is I'm looking for a specific style of cue.
I love the look of the Lucasi LD8 in Ebony & Bone;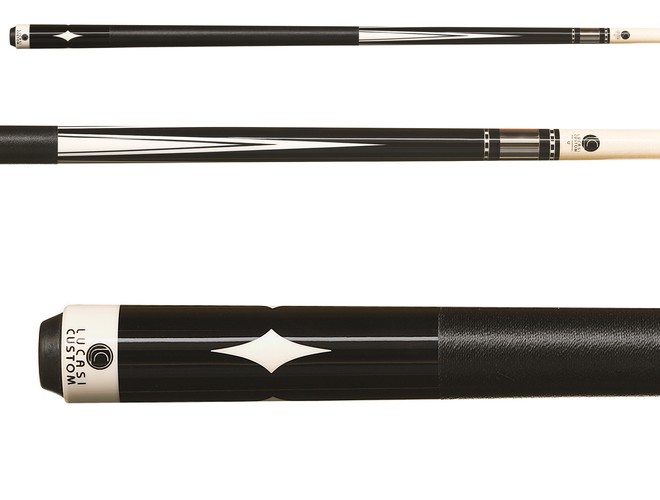 However, it is made in China, and darn it, being a craftsman myself, I'll not sell out my brother's job when buying my cue. Right now I shoot with a cheap Asian cue that looks similar to the above that I bought about 10 years ago.
I try to keep the price down on cues just in case they walk out the back door of the bar when I go out for a smoke, or go to the restroom etc. like a couple McDermott cues I bought years ago did. It keeps me from getting heartbroken.
So, does anybody know of a cue that resembles the one pictured with the black and white points, that is made in the US and under $500.00?
I also like the McDermott in Rosewood, but I have a soft spot for the black forearm with white inlays. Darn vanity. LOL.

Saiga-12 Pauly
Any Cues Like the Lucasi LD8 But Made in USA?
Replies & Comments
---
Mitch Alsup on 12/11/2012 9:20:26 PM

Based on the "look" of the cue, I bet you could get a custom maker to build you one for about $500, You should expect to pay 1/2 up front and wait 1-1.5 years for delivery.
Any Cues Like the Lucasi LD8 But Made in USA?
Title: Any Cues Like the Lucasi LD8 But Made in USA?
Author: Saiga-12 Pauly (Paul Pawlowski)
Published: 12/11/2012 3:58:43 PM