Pool Power Shot System, New Book
---
2/25/2015 6:11:18 PM
Pool Power Shot System, New Book
I would like to introduce you to some original shot making training material that I have been working on for some time that has just come out.
"Aim is the Game in Pool's 'The Pool Power Shot System" - Natural Shot Aiming Secret for Learning how to Play Better Pool
I don't want to violate the terms of this forum but cant seem to find where to post my new material.
My website is at: aimisthegameinpool.com
You may correspond with me at: aimisthegameinpool@yahoo.com
I will answer any questions that you have.
My sole intent and purpose with this new system is to explain the Natural Art of shotmaking in its simplicity with detail. I want to make Pool fun and all I want to recruit new players.
Robin Kelly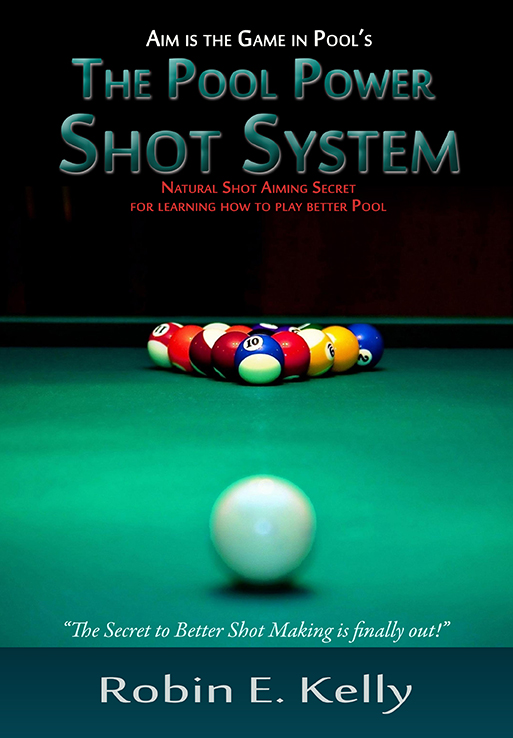 Aim is the Game in Pool Picture This is a really good book for a player that is looking to improve his aiming ability.

Also included in the book are detailed descriptions of walking up on shot methods, pre-shot and shot routine methods, being able to understand the aiming line methods as well as a few exercises to help you with stroke control. Stroke control exercises on forward rolling shots and reverse english shots that once practiced become easy to be able to repeat on the table during normal play.

The book is 171 pages of instruction, stories and new methods that work and even a bank shot. This book was designed to be a progressive journey to a place where acquired "visual intelligence" brings you to a point where your abilities are something you understand how to use making them better than just a feeling that you might not understand. When you understand what you do and you are confident you can do it every time then everything about the game starts to become explainable and within your reach to attain.

Aim may not be everything in pool but it sure is a lot of it. Spending just a little bit of time, effort and money on it might be the right thing to do. If you care about your game I would think so. If you can't make shots well, what can you do?
336Robin
Pool Power Shot System, New Book
Pool Power Shot System, New Book
Title: Pool Power Shot System, New Book
Author: 336Robin (Robin Kelly)
Published: 2/25/2015 6:11:18 PM