Best Billiard Books
---
1/17/2007 10:41:05 AM
Best Billiard Books
What are the best billiard books or pool books? I was wondering what pool books you folks have?
Here is what I have: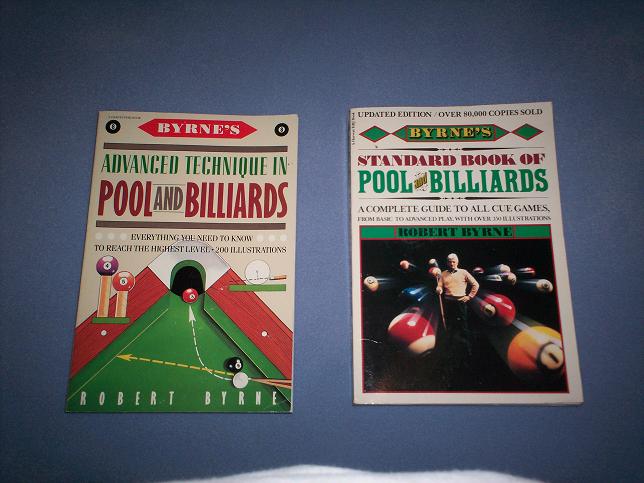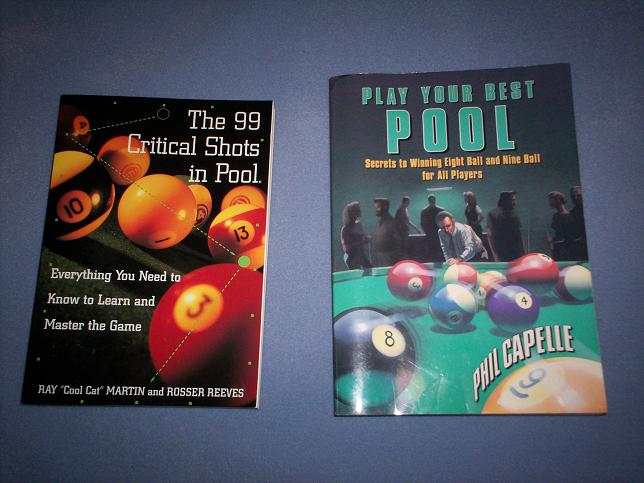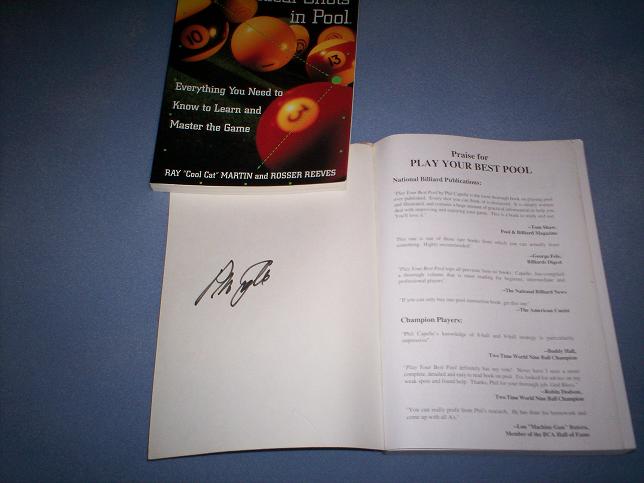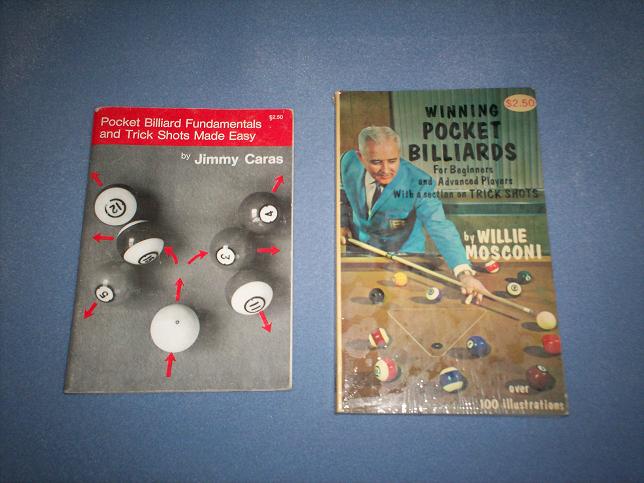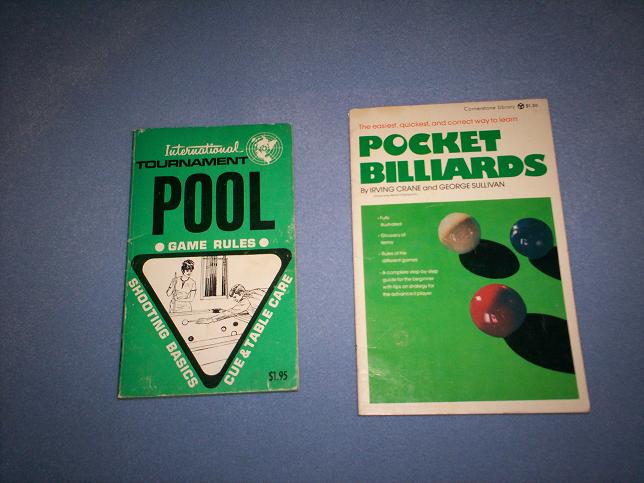 A first edition of Ray Martin's 99 Critical Shots In Pool - The only other pool book I ever owned was a first edition of Ray Martins 99 Critical Shots. He autographed it for me. One day I was at CM's place in Seminole working on some of the shots in the book, and in walks Ray. He lives in the area. The only reason I went to CM's to practice was so that none of my friends would see me. I am sneaky like that. I loaned the book to a friend in 2003, and of course he lost it. So I picked up a newer copy that same year. Yesterday, I tracked down the guy I loaned it to, and he call's me back and he said, I was just thinking about you last weekend. We bought a new house and we were moving last weekend and I found the book. It is so strange you called, cause I did not have a number to get hold of you, that was 3 or 4 cell phones ago. I just got it back this weekend so here are some pictures of my autographed first edition of Ray's book. I am so happy to have it back.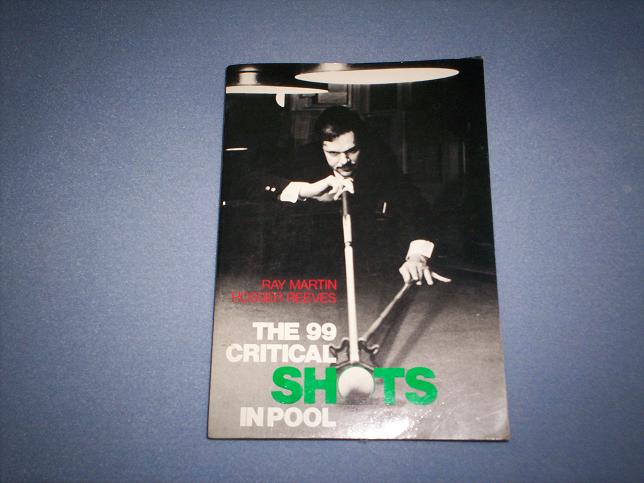 Here is Ray Martin's autograph: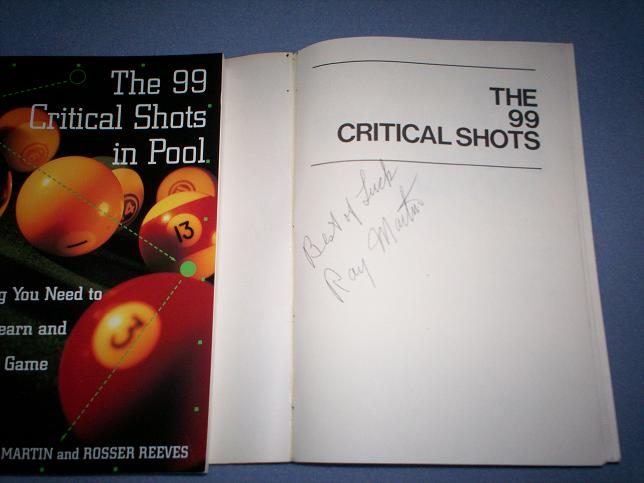 The rear cover: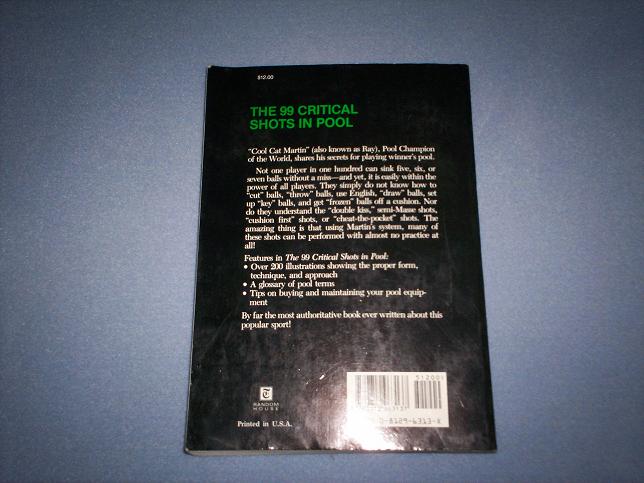 I was going to sell my newer copy, but inside the front cover it said "revised copy", and it has a few updates, so I guess I will keep it.

CaptainHook
Best Billiard Books
Replies & Comments
---
Capt9Ball on 1/19/2007 8:45:41 AM

I often read a book called "The Science Of Pocket Billiards" by Jack Koehler. The book teaches bank shots, the diamond system, the parralel system, english, throw, deflection, etc.

Along with that book is a book called "Upscale 9-Ball", also by Jack Hoehler.

Both books are very informative.

krbsailing on 2/6/2007 2:07:23 AM

I think the 99 Critical Shots is the BEST book I've got, and I do have "a couple" of pool books.

If you're into videos... I've got some training DVD's you might want to checkout sometime.

atenra11 on 1/7/2020 2:37:56 AM

You can't get better than Byrne and Capelle, oh and Martin....
Best Billiard Books
Title: Best Billiard Books
Author: CaptainHook (Mike Corey)
Published: 1/17/2007 10:41:05 AM