OTBnTV The Battle of Montana Challenge Match
---
8/14/2008 12:25:09 AM
OTBnTV The Battle of Montana Challenge Match
OTBnTV is proud to announce it's 1st free live streaming event - The Battle of Montana Challenge Match.
onthebreaknews.com/OTBnTVLive.htm
The Battle of Montana - The Challenge Match on August 22, 2008.
Airs at 8 PM Eastern - 7 PM Central - 6 PM Mountain and 5 PM Pacific Time
The challengers are Jack Madden vs. Jeff Boucher
The game is 10-Ball - The race is 21 - Alternating Break
This will be a live free stream through Ustream. Log in to the chat room and speak your piece.
Pass the word and forward this to your friends. Please put the poster up at your favorite bar, lounge, tavern, pool hall or anyplace you play pool, so others may watch also. We appreciate your help with this.
Jack Madden began playing pool in the local pool rooms in Phoenix, Arizona. Working in construction gave him the chance to travel and play in most of the western United States. Jack played and placed in the World Nine Ball Championship held at Terry Stonier's in Sacramento, CA, finishing third behind Keith McCready and Larry Hubbard (co-founder of APA). Jack was invited to play in the prestigious Barry Behrman's US Open 9 Ball and One Pocket Championship.
Jeff Boucher is a 4 time Montana State MCMOA Champion. Jeff most recently finished 2nd in Masters in Las Vegas at the BCAPL Nationals this past May. To watch Jeff play Stan Tourangeau in the finals of the Holiday Classic November 2007 http://www.onthebreaknews.com/HolidayClassic07.htm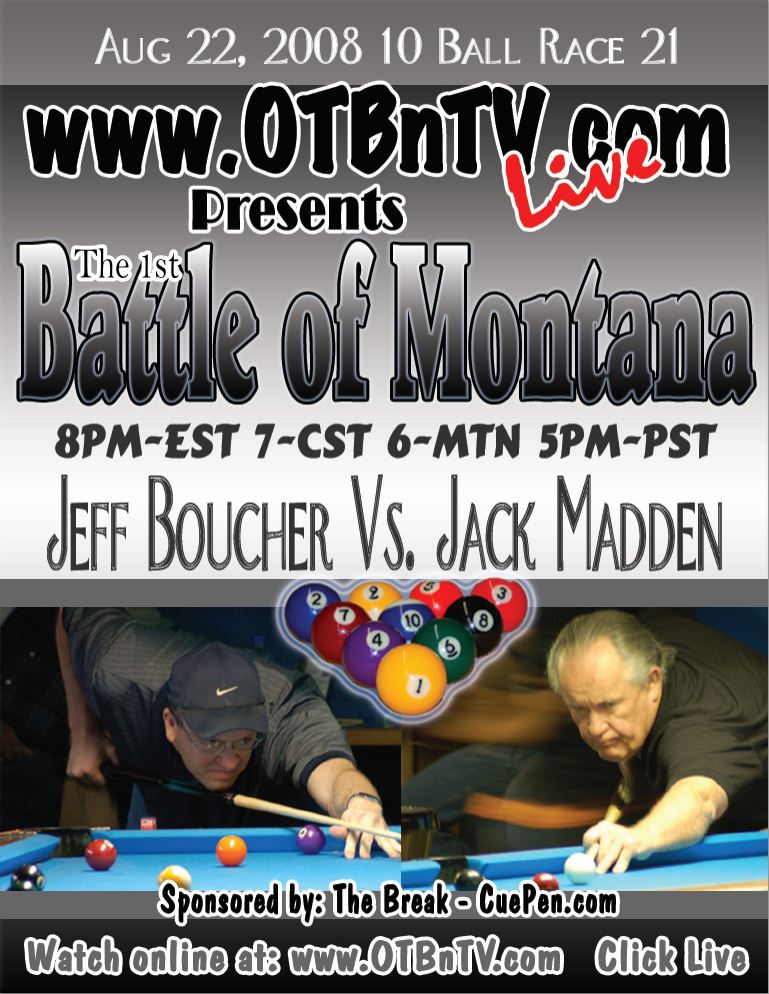 (source onthebreaknews.com/ChallengeMatch.pdf)
You can help support OTBnTV Live! We have t-shirts and they are available at onthebreaknews.com.
Thank you for your help and support, and I hope to see you there.
Don Akerlow, OTBnTV Live
OTBnTV
OTBnTV The Battle of Montana Challenge Match uses billiard rules similar to:
OTBnTV The Battle of Montana Challenge Match
OTBnTV The Battle of Montana Challenge Match
Title: OTBnTV The Battle of Montana Challenge Match
Author: OTBnTV (Don Akerlow)
Published: 8/14/2008 12:25:09 AM